13 Beautiful Things To Do at Uluru-Kata Tjuta National Park
Disclosure
Welcome and thank you for visiting this article. Before you start reading, you need to know that some of the links on my website are affiliate links of which I receive a small commission from the sale of certain items, but the price remains the same for you.
With its ancient red rocks, Uluru-Kata Tjuta National Park is a spiritual place that has fascinated tourists for years. The park is located in Australia's Northern Territory and is home to Uluru (Ayers Rock), Kata Tjuta (The Olgas), and numerous other sacred Indigenous sites.
As there are so many beautiful things to do at Uluru-Kata Tjuta National Park, I decided to write this blog post that includes my own experiences and how to get the most out of your trip to Uluru with the extra tips at the end of this article.
READ ALSO: From Darwin to Uluru: the best Northern Territory road trip in 3 weeks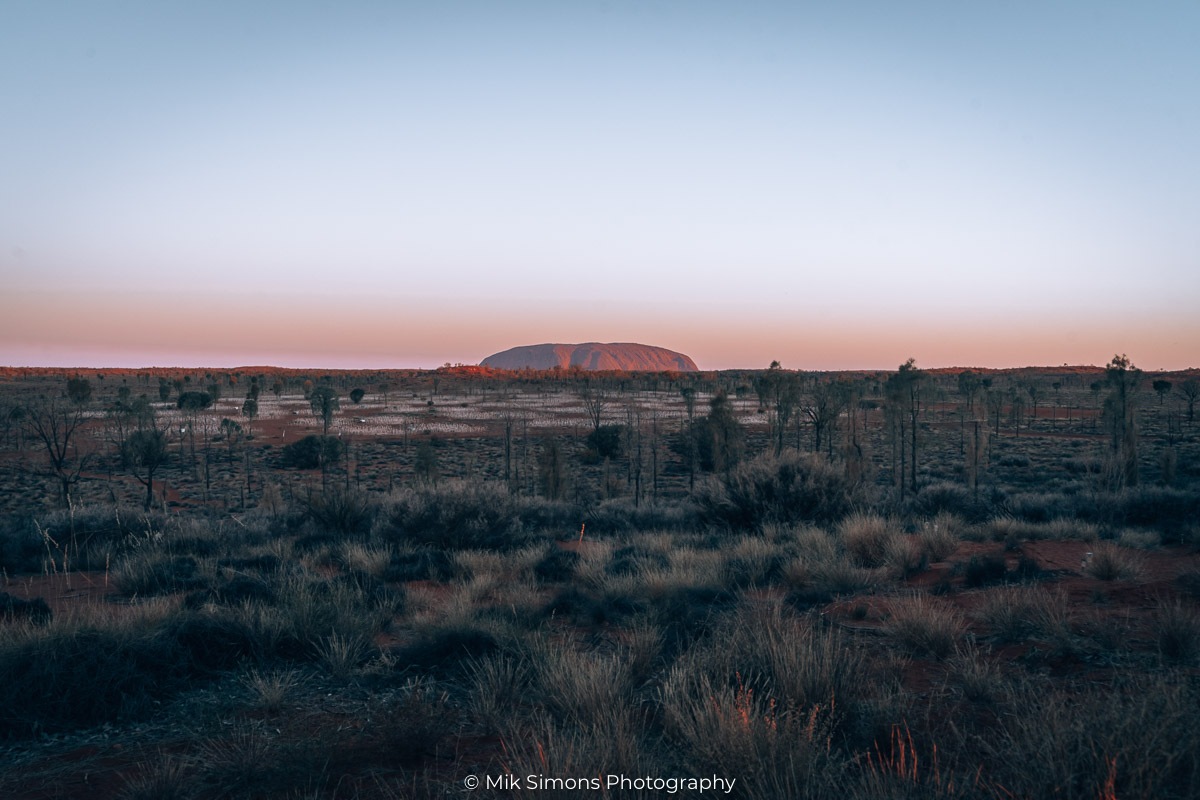 Where is Uluru-Kata Tjuta National Park?
Uluru-Kata Tjuta National Park is located in Central Australia, also known as the Red Centre, about 350km from Alice Springs. The park is home to Uluru (Ayers Rock), Kata Tjuta (The Olgas), and many other amazing rock formations.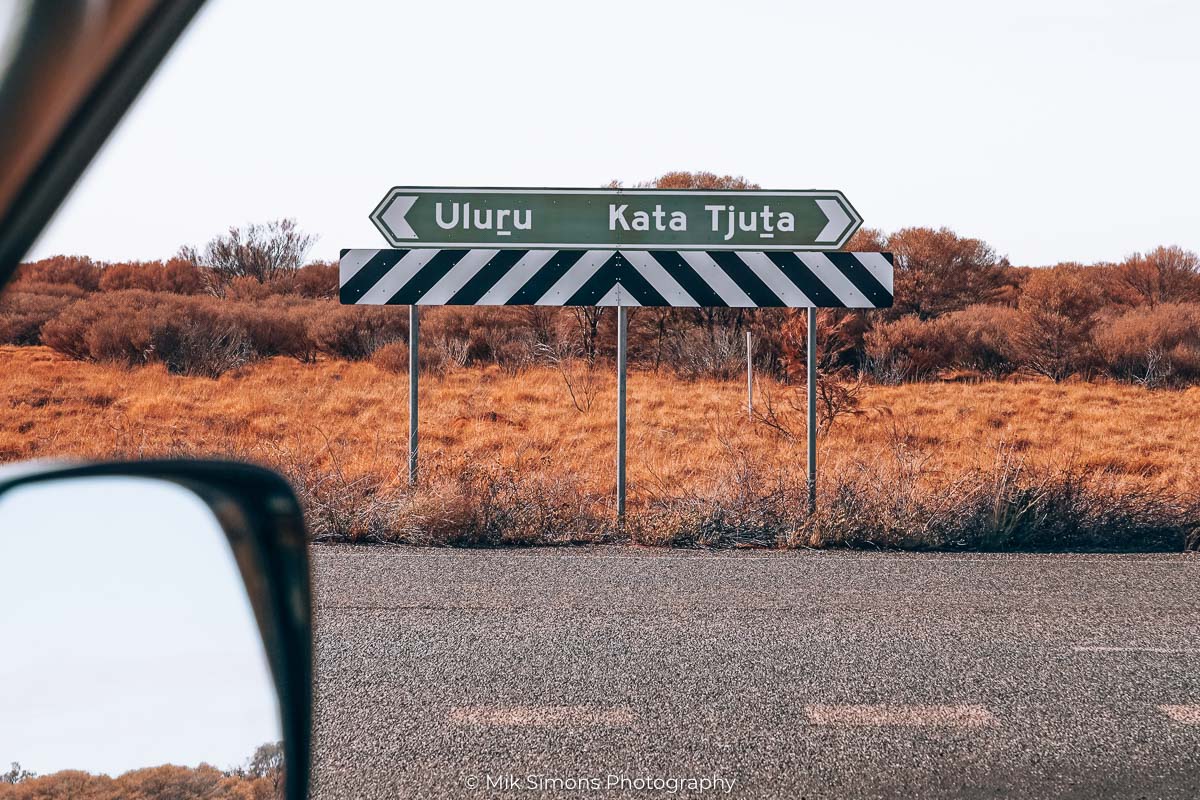 How To Get To Uluru-Kata Tjuta National Park ( From Alice Springs)
The drive from Alice Springs to Uluru-Kata Tjuta National Park is a beautiful experience itself. The road winds through the desert landscape, with amazing views of the Outback of Australia and the incredible wildlife that crosses the roads.
After a few hours of driving, you can spot Mount Connor from the distance, which is often mistaken as Uluru.
By Car: Visit Uluru with your own car or rent a car in Alice Springs. There are not many options to choose from so it is recommended to book in advance.
The drive from Alice Springs to Uluru-Kata Tjuta National Park is about 350km and definitely worth driving along. I love the scenery, the kangaroos crossing the road and I even saw some camels wandering in the bush.
The road is easy to drive on and there are a few stops along the way to get fuel but I recommend filling up at every fuel station if you can.
By Bus: If you don't have a car or the flight options are limited for your trip, then you can choose to take the bus to Uluru.
The AAT Kings bus will bring you from Alice Springs to Ayers Rock Resort just outside the Uluru-Kata Tjuta National Park. The trip takes about 5 hours, includes a stop at the Erldunda roadhouse for a quick break and it costs only AU$ 190 (one-way)
BOOK: If you plan to go during the peak season I recommend booking your bus tickets in advance.
Best Time To Visit Uluru
The best time to visit Uluru is from April to September during the cooler months. However, it's worth noting that Uluru can be quite windy during this time, and it can also get quite cold at night. Furthermore, it is unique to see waterfalls dropping down from the big rock during the wet season.
I went in August and September and August was more pleasant but more tourists, so book your accommodation in advance during this time. The park is open all year round, so you can visit at any time of the year.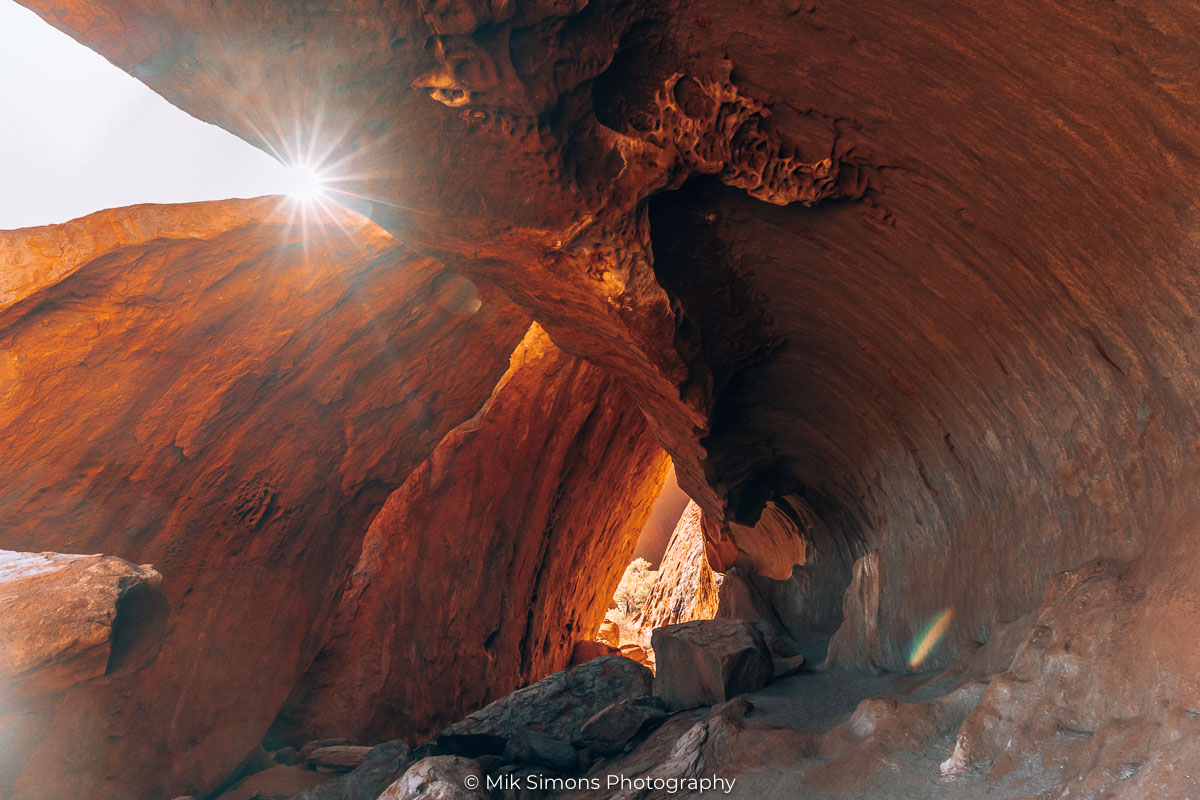 How Many Days Do You Need In Uluru-Kata Tjuta National Park?
Most people visit Uluru-Kata Tjuta National Park for 1 or 2 days. However, there is plenty to see and do in the park, so you could easily spend 3 or 4 days exploring everything it has to offer.
I went 2 times to Uluru and stayed each time for 4 nights to get the most out of my time in Uluru. I even bought an annual pass because it is only 15 AUD more than a 5-day pass. So, it really depends on how much you want to see and do in the park.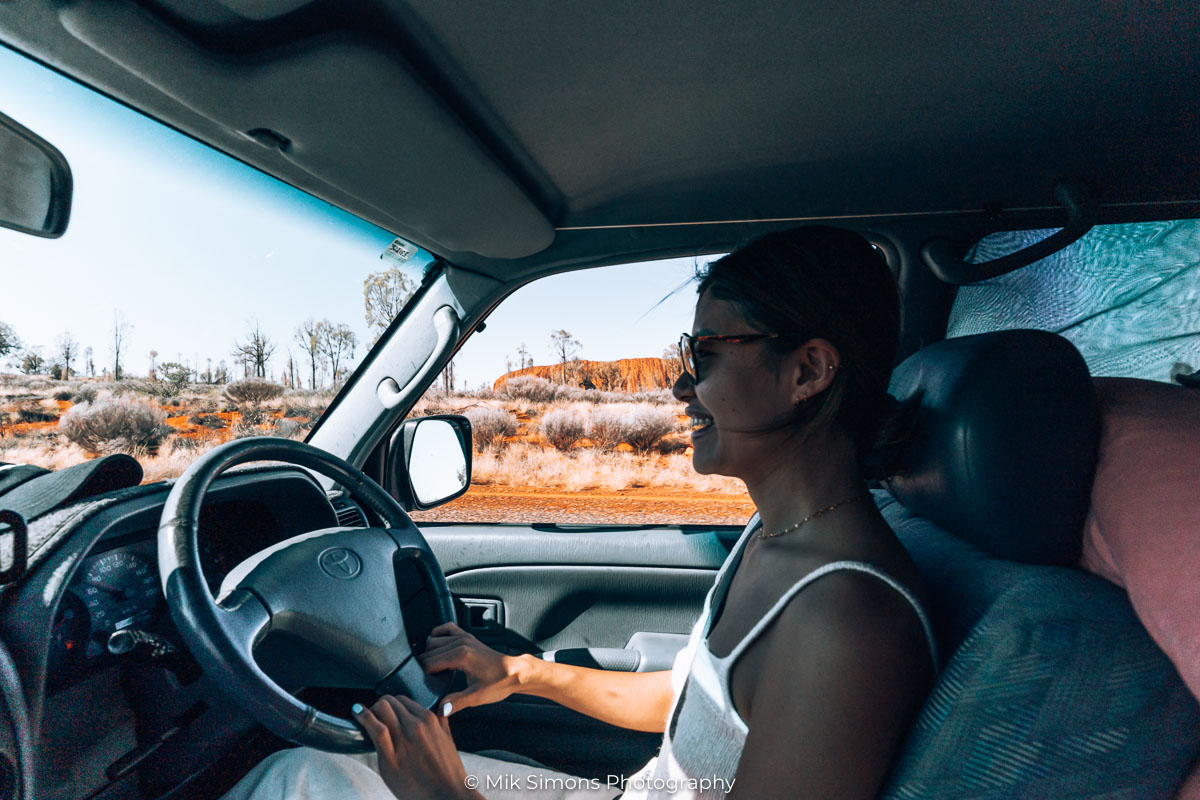 Accommodation in Uluru-Kata Tjuta National Park
There are a few options for accommodation in Uluru as the town of Yulara offers something for everyone. There are a few hotels such as The Lost Camel, Sails in The Desert, and the Emu Gardens.
However, if you would like to camp near Uluru, then the Ayers Rock Campground is the best option, while Longitude 131 is probably the most beautiful stay you'll ever experience.
I was exploring the Red Centre with my 4-wheel drive and stayed at the Ayers Rock Campground but went for dinner at the restaurant of Sails in the Desert, which was excellent!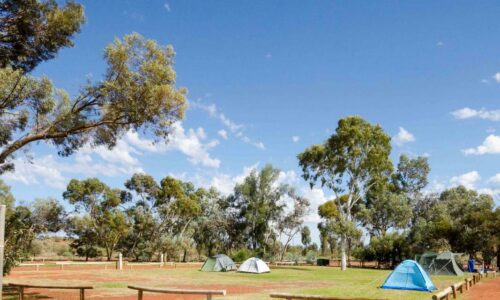 Ayers Rock Campground is part of the Ayers Rock Resort and offers powered and unpowered camping sites as well as cabins. The Campground has a pool, ablution blocks with laundry facilities, and an amazing viewpoint to watch the sunset over Uluru.
Prices are AU$ 40 per night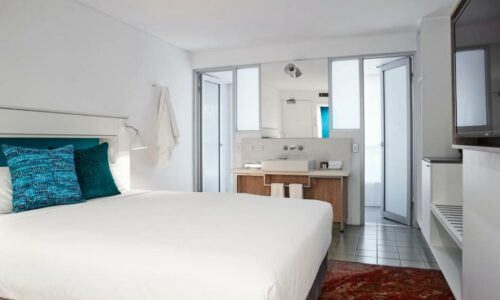 The Lost Camel is also located in the Ayers Rock village and offers comfortable, studio-styled rooms. Some of them have even a beautiful view of Uluru.
So if you are not into camping but you want to stay in a nice and affordable hotel near Uluru, Then The Lost Camel is a very good option.
Prices are AU$ 400 per night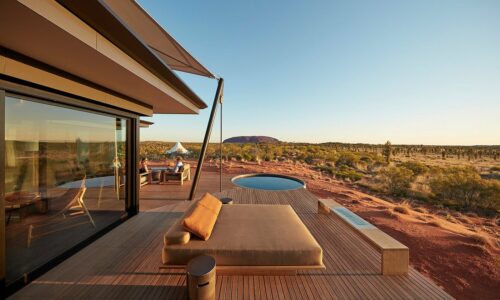 One of the most unique experiences in the Red Centre is a stay at Longitude 131° as it offers an essential experience of Australia's spiritual heartland. Exploring this World Heritage-listed wilderness on guided excursions while enjoying contemporary furnishings in luxury tents that overlook Uluru (Ayers Rock).
It is the perfect place to stay for a honeymoon, a special anniversary or just to relax and unwind during your holiday.
Prices start from AU$ 1000 per night
13 awesome Things To Do at Uluru – Kata Tjuta National Park
Watch The Sunrise At Uluru
There's no better way to start your day than watching the sunrise over Uluru. Although Ayers Rock is an incredible sight at any time of the day, it's even more beautiful at sunrise. As the sun slowly rises over the horizon, the rock turns a deep red hue.
So if you can get up early enough, be sure to watch the sunrise over the rock and light up the desert landscape around you.
TIP: Watch the sunrise also from the 'sunset viewpoint' or the coach parking area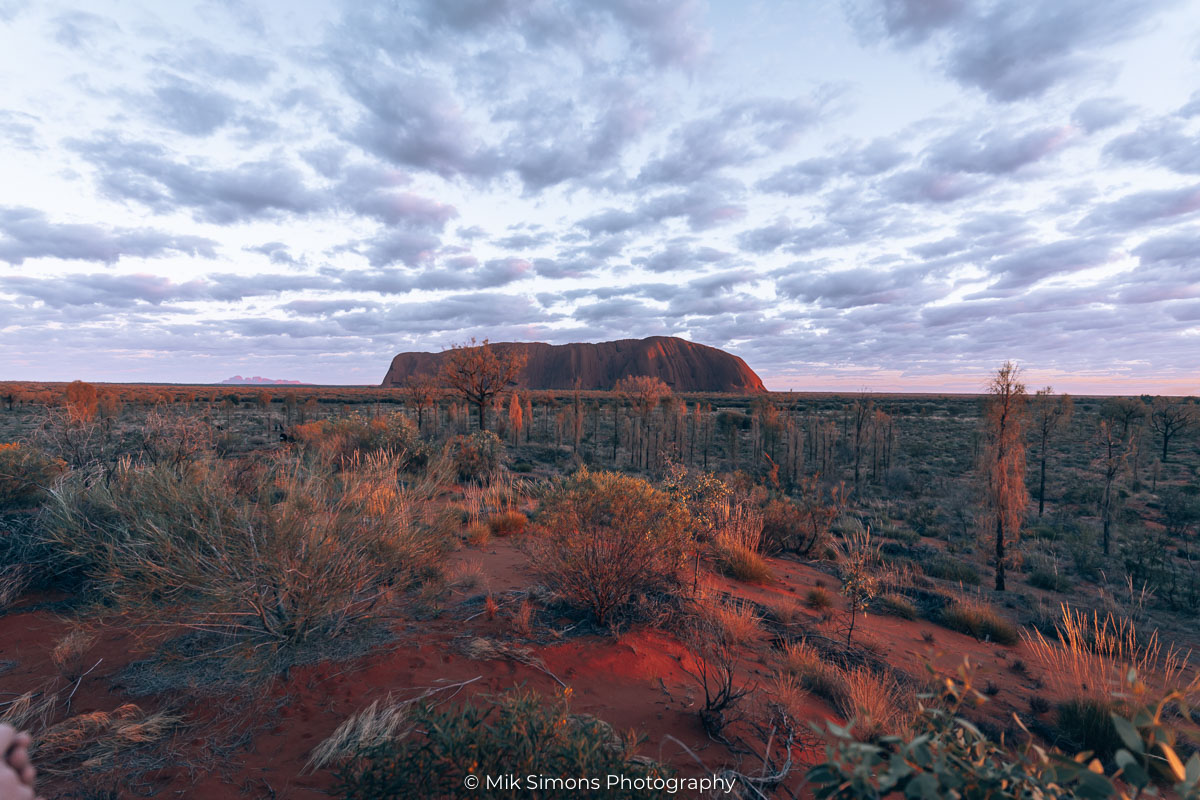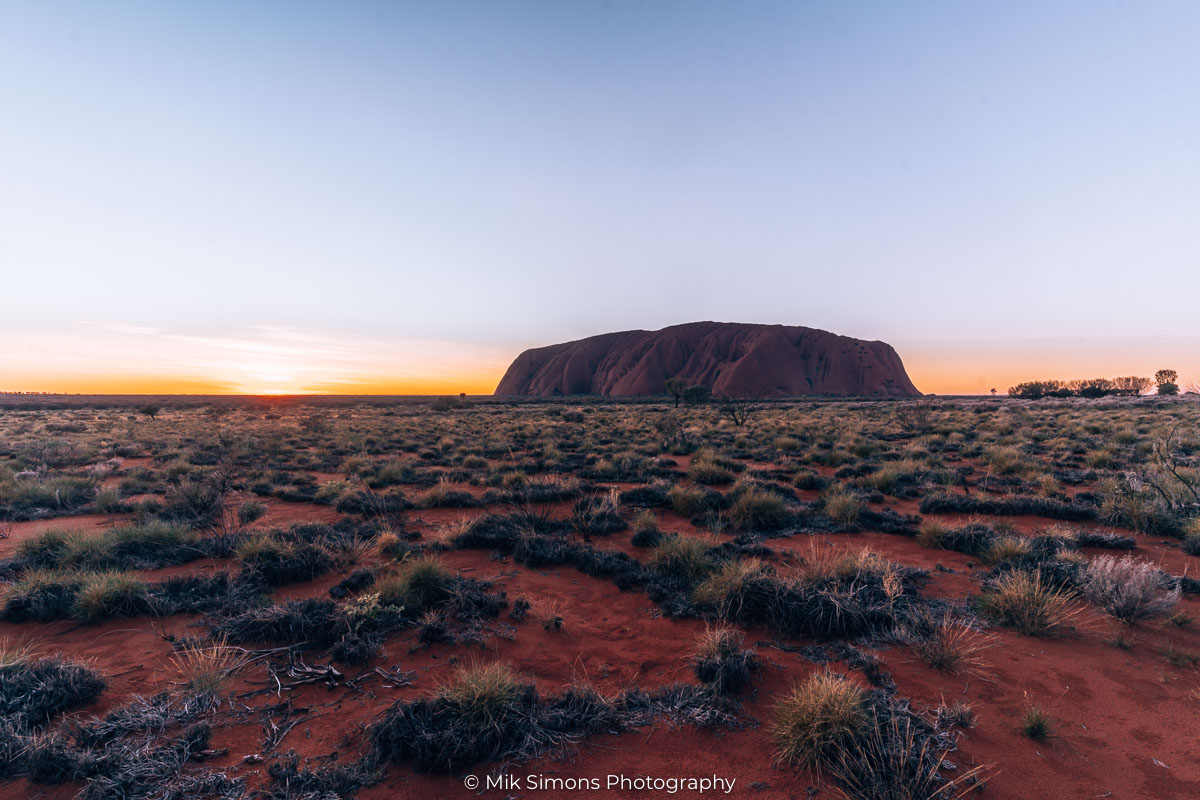 Enjoy the spectacular sunset at Uluru
The sunset over Uluru is another must-see spectacle. As the sun sets behind the Olgas, it casts a beautiful orange glow over the landscape. To see the best sunset over Uluru, head to the viewing platforms located on the east and west side of the rock.
Again, ensure you have your camera ready, as the sunset over Uluru is one of the most photogenic scenes in the world and one of the best things to do at Uluru.
TIP: At the coach parking area is a small sandy walking track that leads to a 'hidden view point'
BOOK: Experience a magical sunset, sparkling wines, and tapas during this sunset tour at Uluru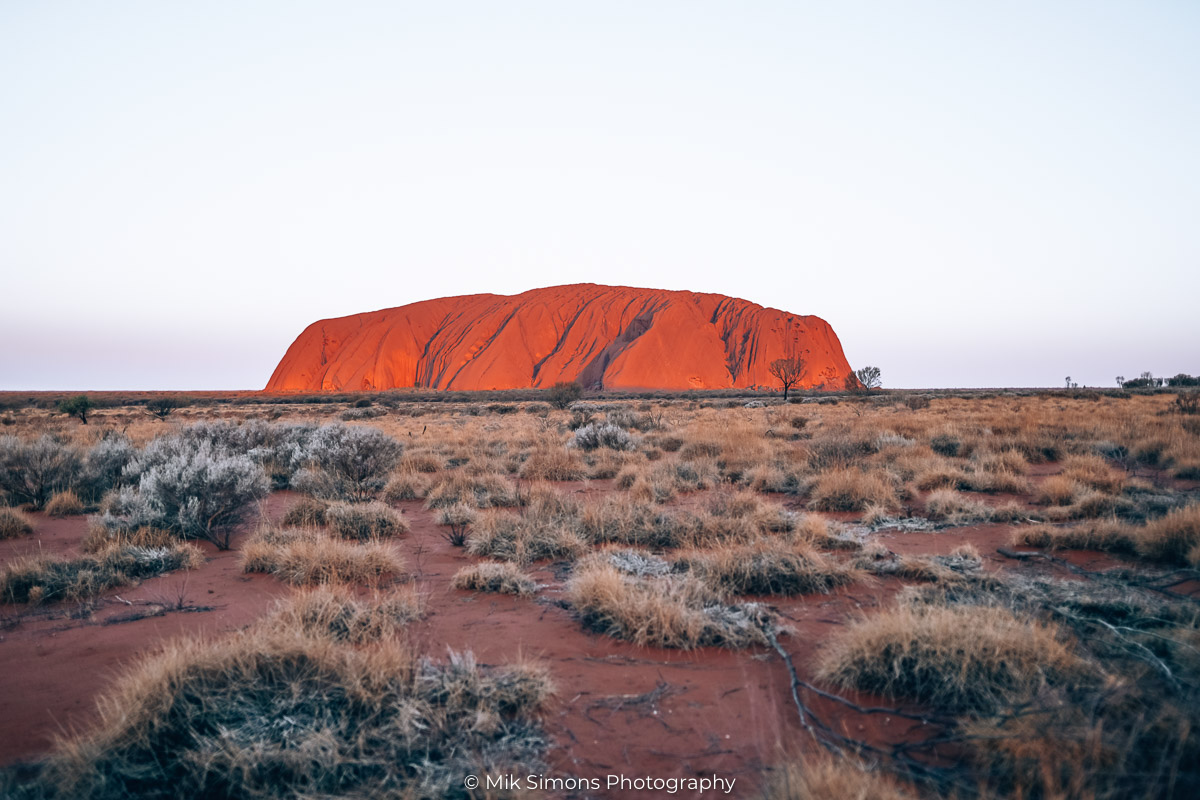 Enjoy A Sunrise Or Sunset Helicopter Flight Over Uluru And Katja Tutja
If you want to experience Uluru and Kata Tjuta differently, then joining a helicopter flight is probably one of the best things to do at Uluru. There are a few companies that offer flights over the rock, and it's definitely an experience you won't forget.
I booked the 36-min sunrise tour in 2020 with Professional Helicopter Service and it was an unforgettable experience, so I went back in 2021 to Uluru and booked the sunset tour with them. Both flights were amazing, however, the sunset tour is more relaxed as it becomes brighter instead of darker during the tour.
Experience it yourself and let me know which is your favorite tour.
BOOK: Join a 36-min tour over Uluru and the Olgas with PHS but make sure you book in advance if you want to experience the sunset or sunrise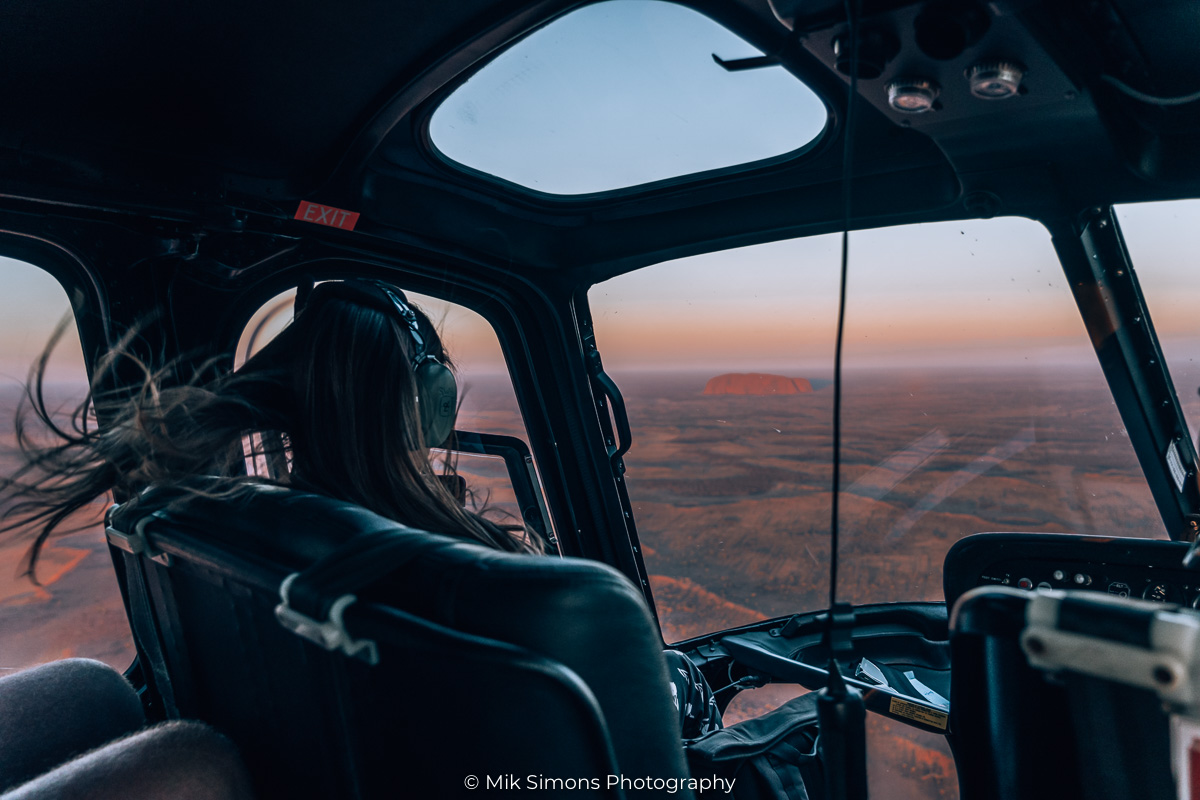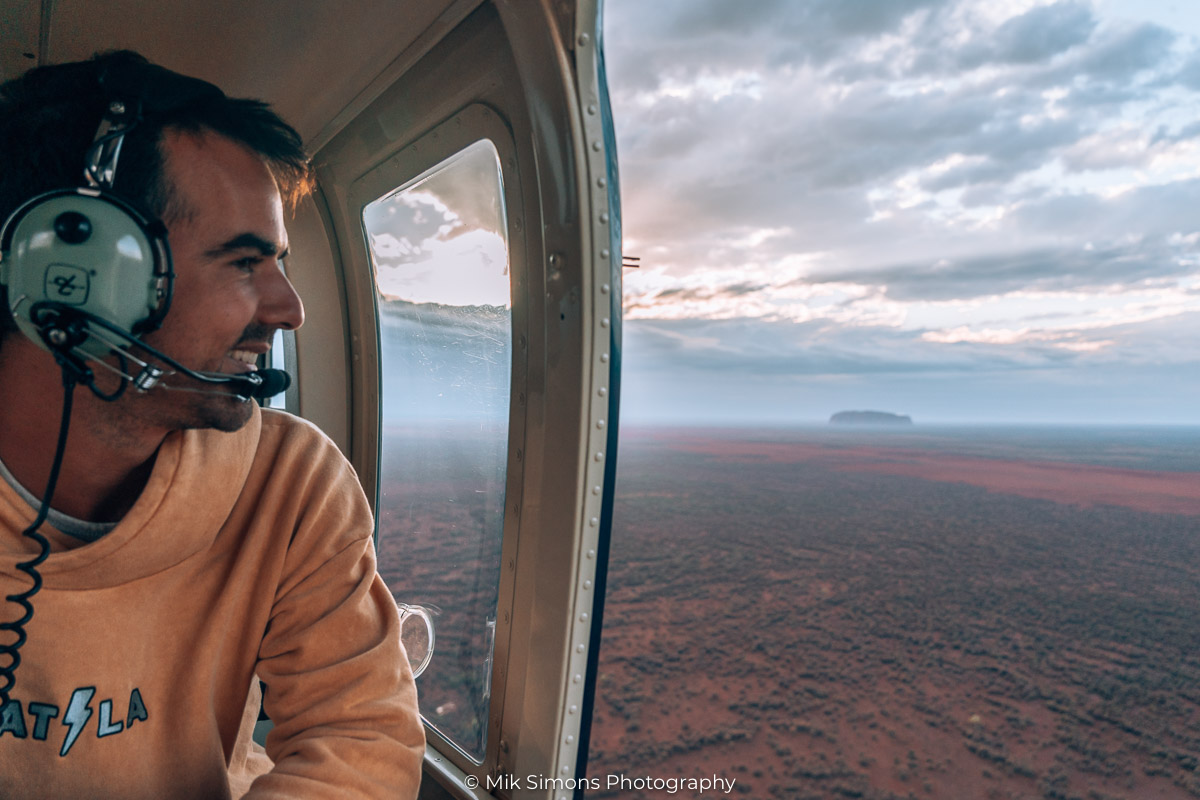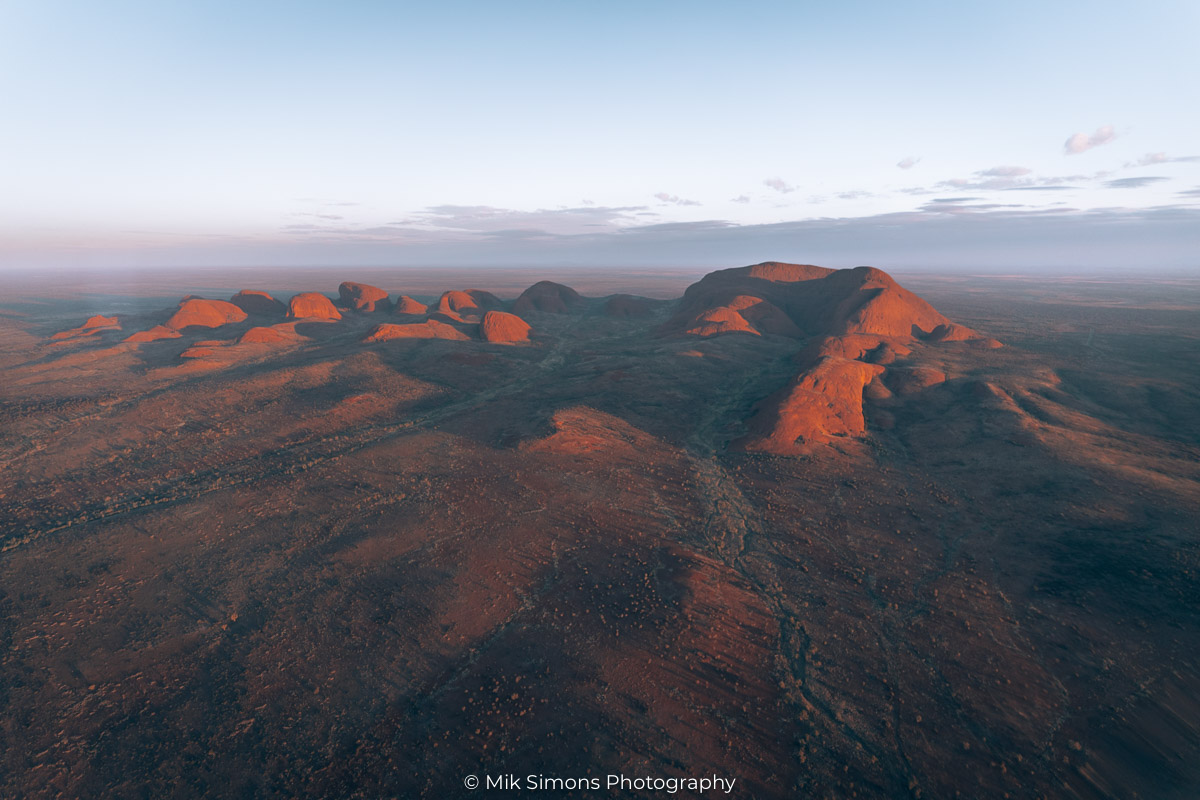 Be Amazed By The 'Field of Light'
Uluru is home to one of the most beautiful art exhibitions in the world, the 'Field of Light'. The surrounding landscape is lit up with thousands of lights that change their color constantly, making for a truly unforgettable experience. When you see this, you will think you are walking on another planet.
The tour is only AU$80 and you get food, drinks, a walk through the 'Field of Light', and an epic view of Uluru from a view platform exclusive for this tour.
TIP: I went during a new moon so there was almost no light pollution and special sunset/stargazing tours were available.
BOOK: It is not possible to experience the 'Field of Light' without a guided tour, so I recommend booking in advance as it is very popular.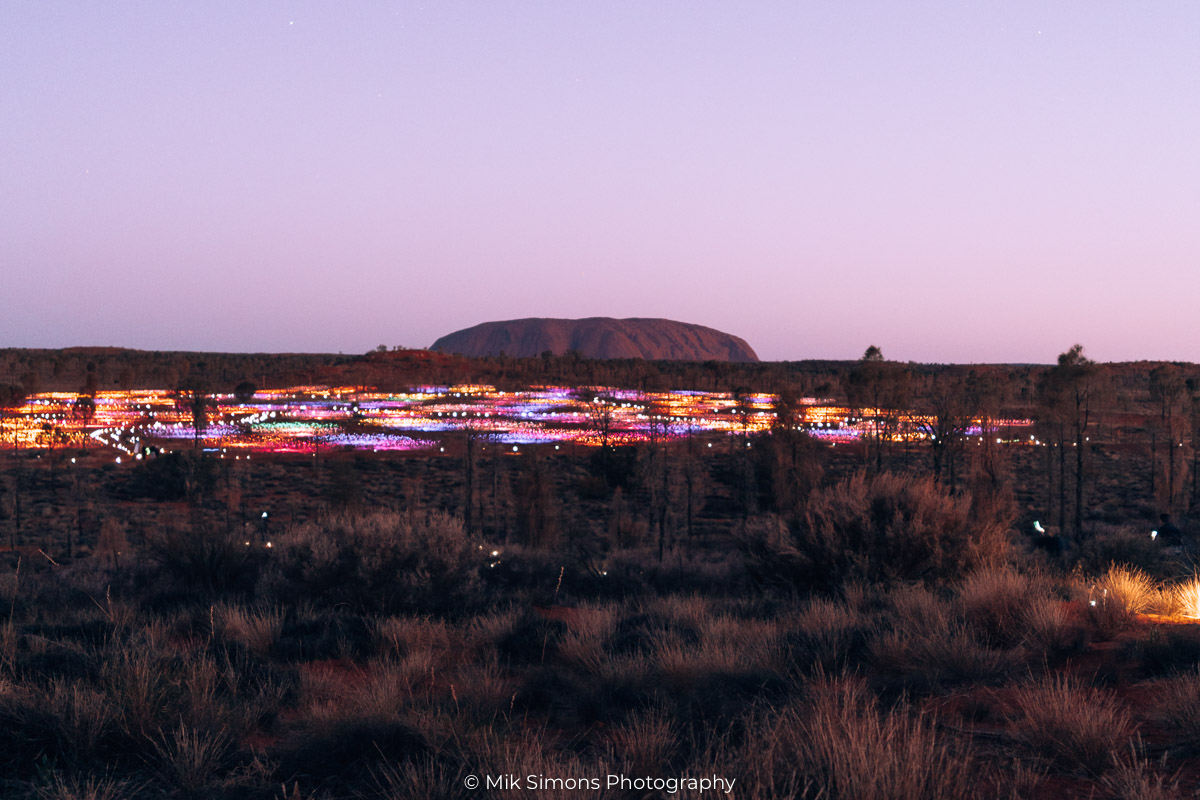 Admire The Milky Way At Uluru
The night sky at Uluru is a sight to behold. With hardly any light pollution, the stars are clear and bright. If you're lucky enough to visit during a new moon, you'll be able to see the amazing Milky Way stretching across the sky.
I was lucky enough to experience this spectacle during a new moon phase and while I joined the 'Field of Light tour', which made it even more magical and for me, it was absolutely one of the best things to do at Uluru.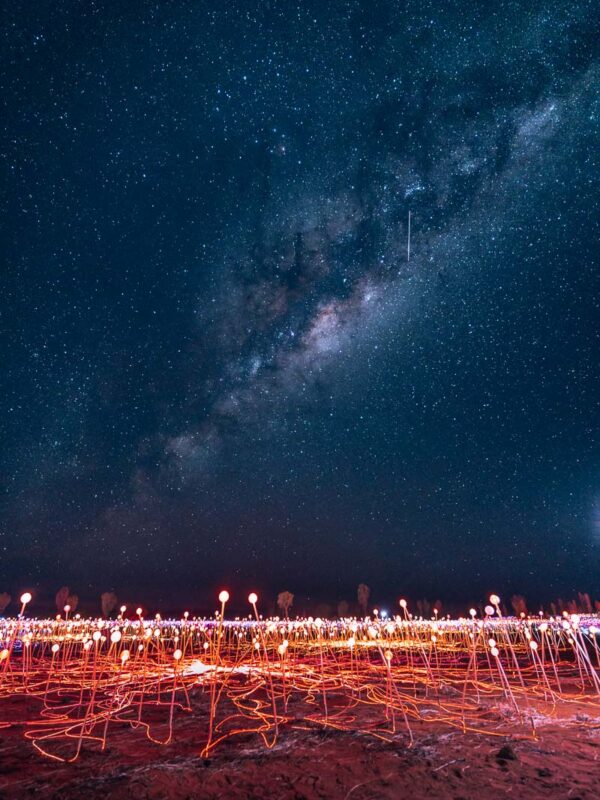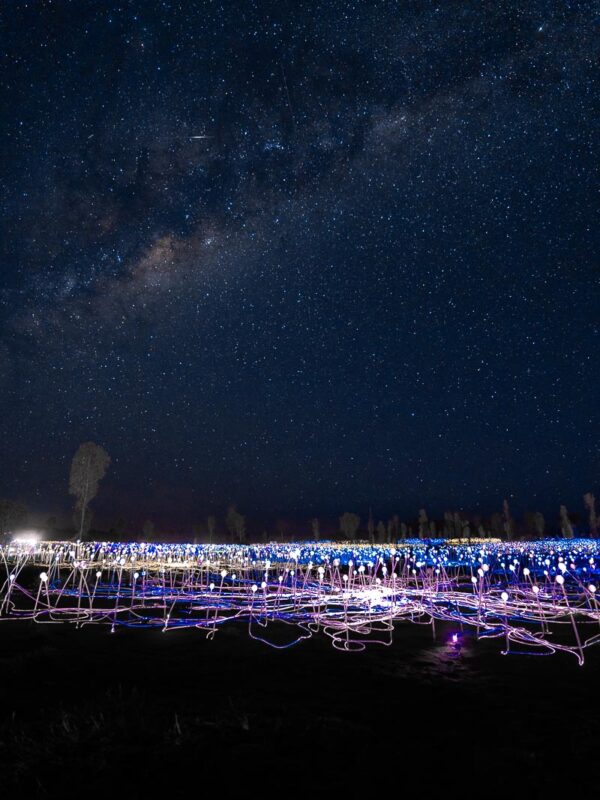 Explore The Walking Tracks Around Uluru

Uluru is a giant red rock that stands out against the pale desert landscape. It's no wonder that it is one of Australia's most popular tourist destinations.

There are numerous walking tracks around Uluru such as the Uluru Base Walk, which goes around the big rock, or the Mala Walk, where you learn more about the indigenous people of Uluru.

If you have time, it's definitely worth exploring as much of the rock as possible.

BOOK: Join a guided tour and learn more about the sacred places of Uluru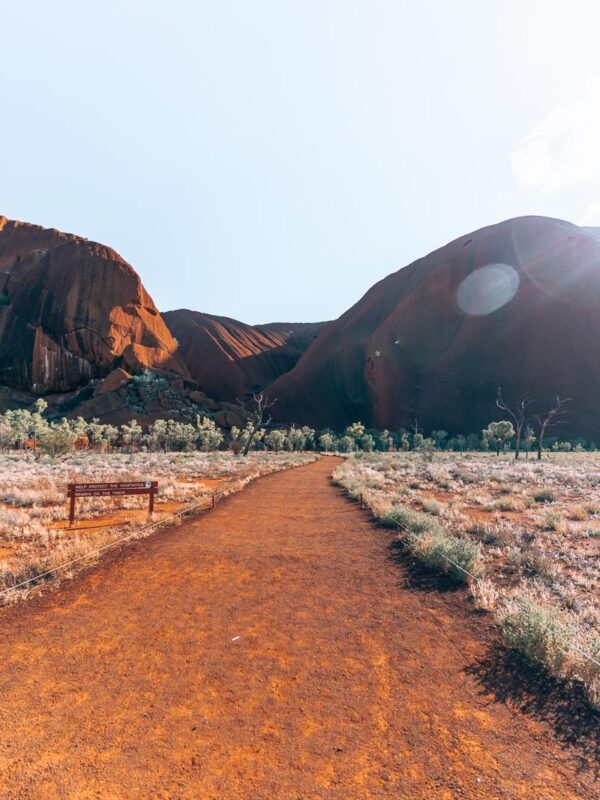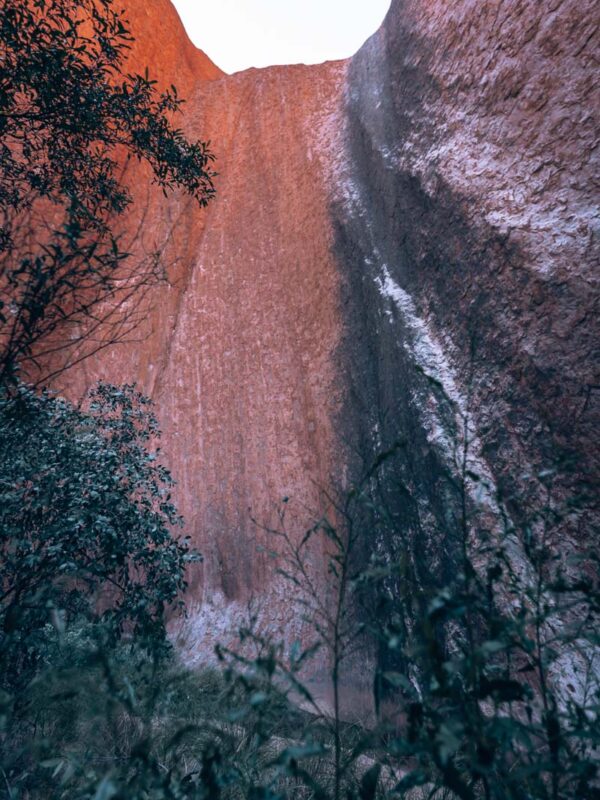 Watch Kata Tutja From The Sunrise Point
Kata Tjuta, also known as the Olgas, is a beautiful rock formation located near Uluru. It's worth visiting Kata Tjuta for the amazing views of Uluru, as well as the unique rock formations. Several viewing points are located around Kata Tjuta, but Sunrise Point is the best place to watch.
TIP: Go also to Kata Tutja sunset point with sunrise to avoid the tourist and watch a magical sunset.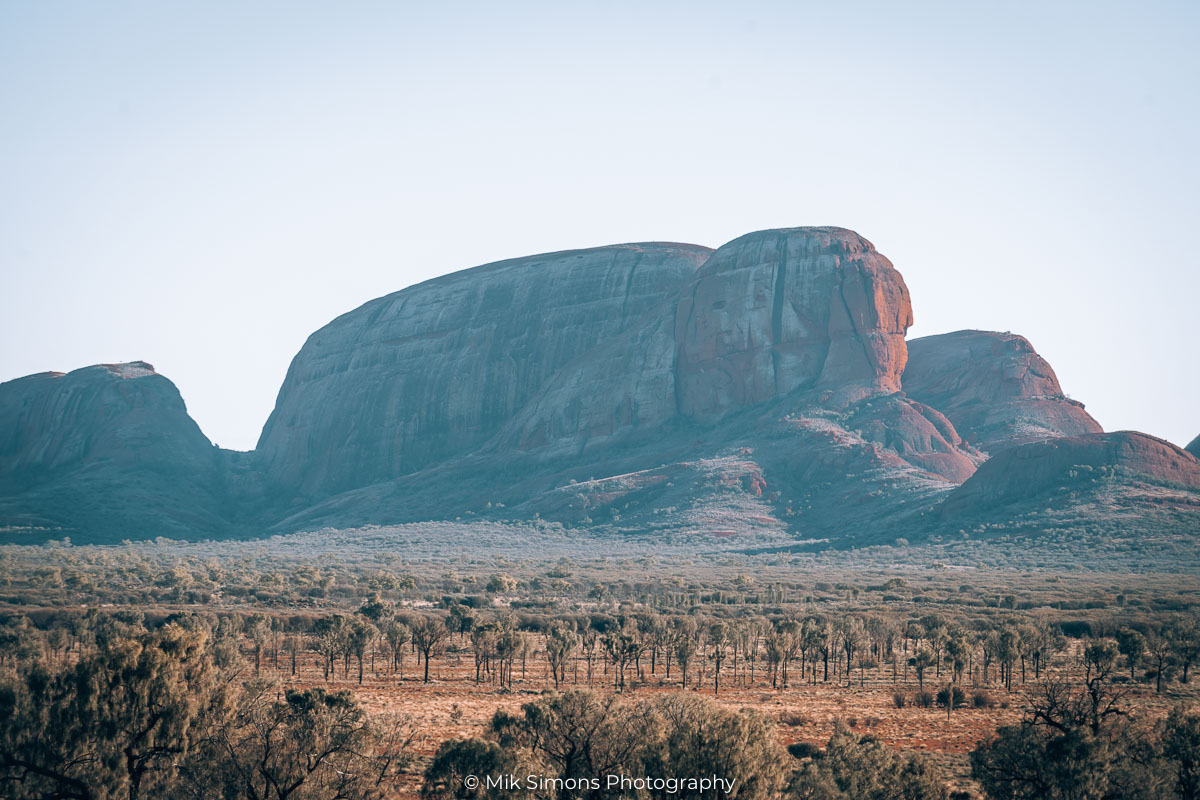 Spot Wildlife Along The Way
The park is home to wildlife, including kangaroos, wallabies, and dingoes. If you're lucky, you may be able to spot some of these animals along the way. The best time to see wildlife is early in the morning or late in the evening.
However, The Red Centre is also home to s;aller inhabitants such as the Blue-Tongue Lizard and the Thorny Devil, which is my favorite Australian animal.
During my visit to Uluru, I saved about 6 Thorny Devils when they tried to cross the road
TIP: Keep an eye on the road when you drive as many Thorny Devils are killed by cars while crossing the road.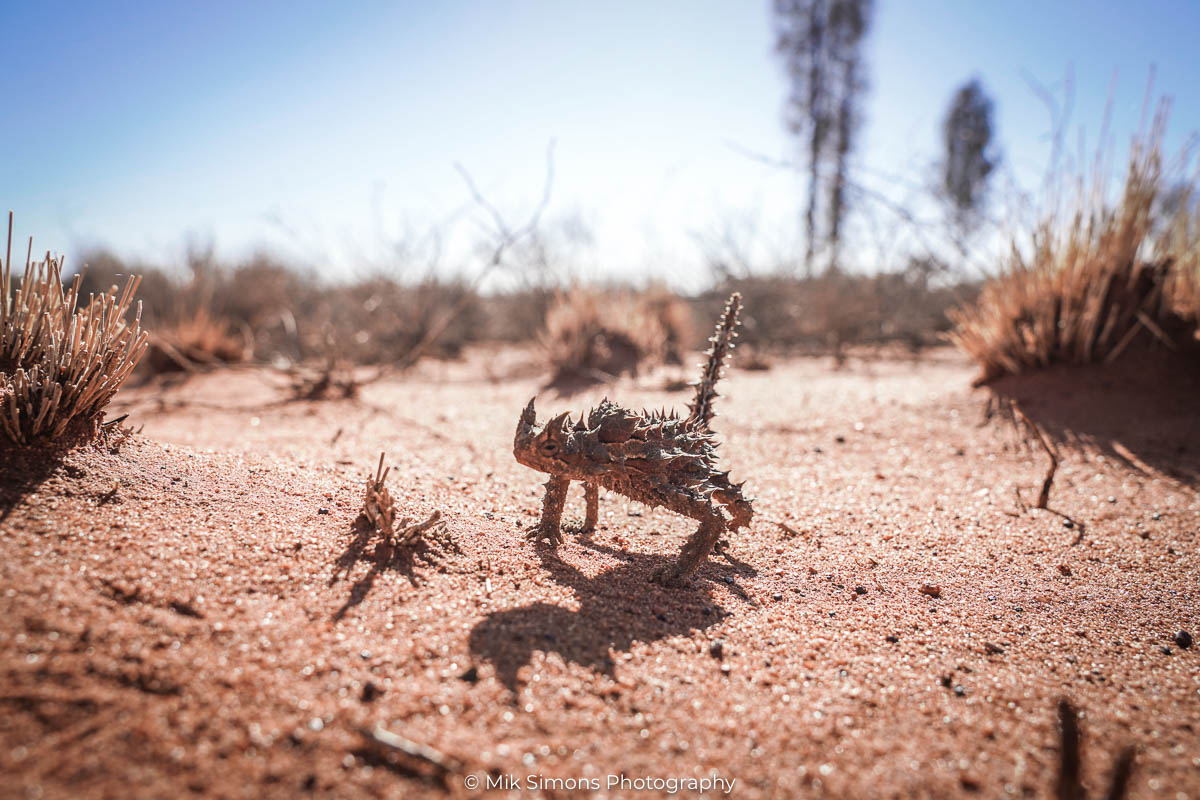 Learn More About The Rock Art And The Aboriginal Culture
Uluru is packed full of Aboriginal rock art, and it's a great place to learn more about the culture of the Indigenous people of Australia. There are several aboriginal tours you can join in the park and where you can learn more about the history of the area.
It is one of the unique things to do qt Uluru if you like the Australian culture and the beautiful 'dot paintings'.
BOOK: Get immersed in the culture of the indigenous people of Australia with this Aboriginal Tour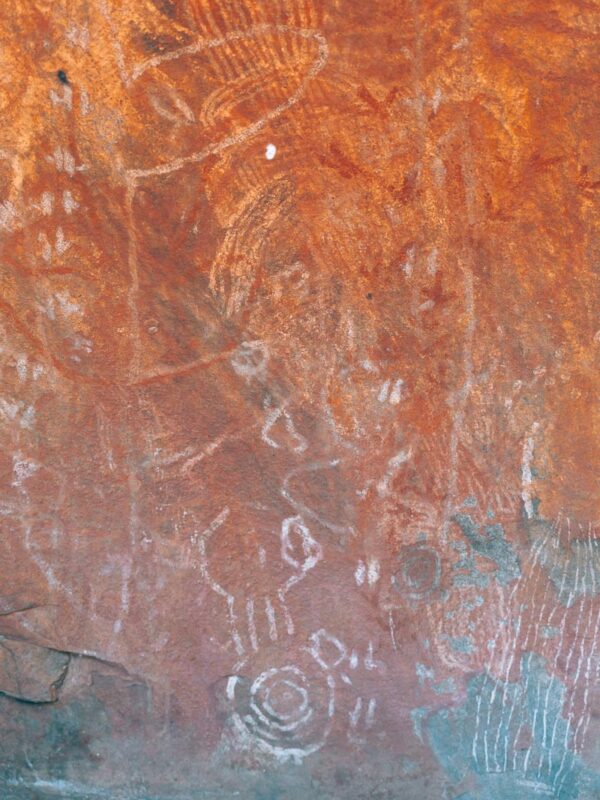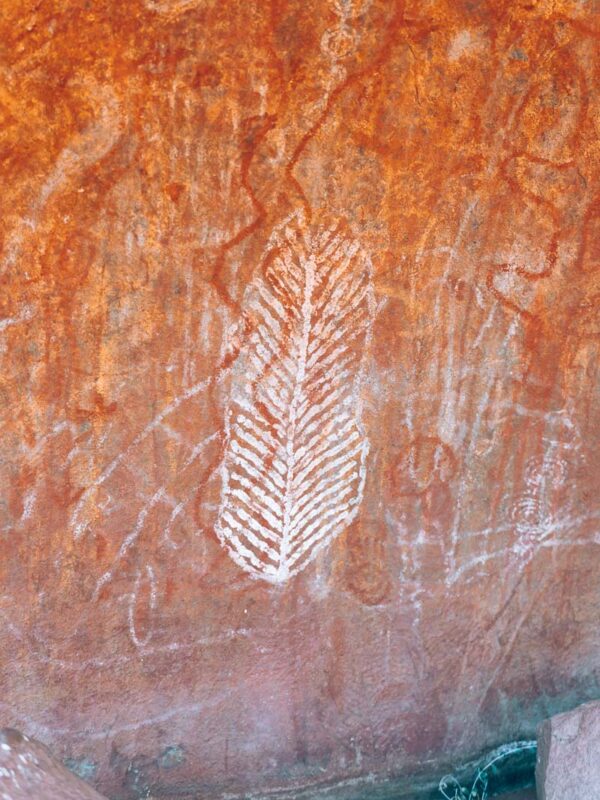 Don't Ride Camels
One of the things to do at Uluru is camel rides, which can be fun, however, I try not to support this kind of activity but rather spot the animals in the wild.
When I drove from Alice Springs to Ayers Rock, I spotted some wild camels in the bush along the way.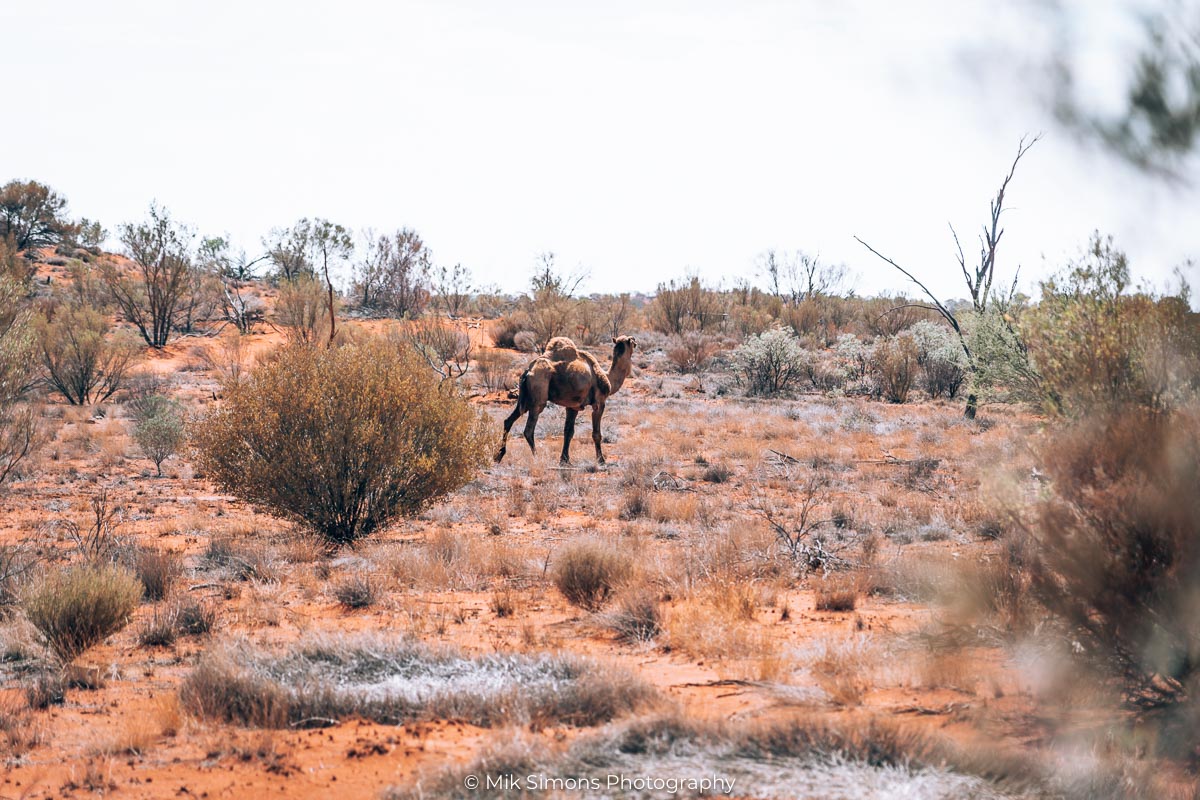 Visit The Walpa Gorge
The Walpa Gorge is a beautiful place located in the Kata Tjuta area. It's a great place to go for a walk and admire the beautiful wildflowers.
From the carpark, you can walk to the end of the Gorge and cross some bridges and even walk along with some small pools after a rainy day.
During the Wildflower season, the Walpa Gorge is full of colorful flowers, which makes it the perfect location for a beautiful photoshoot.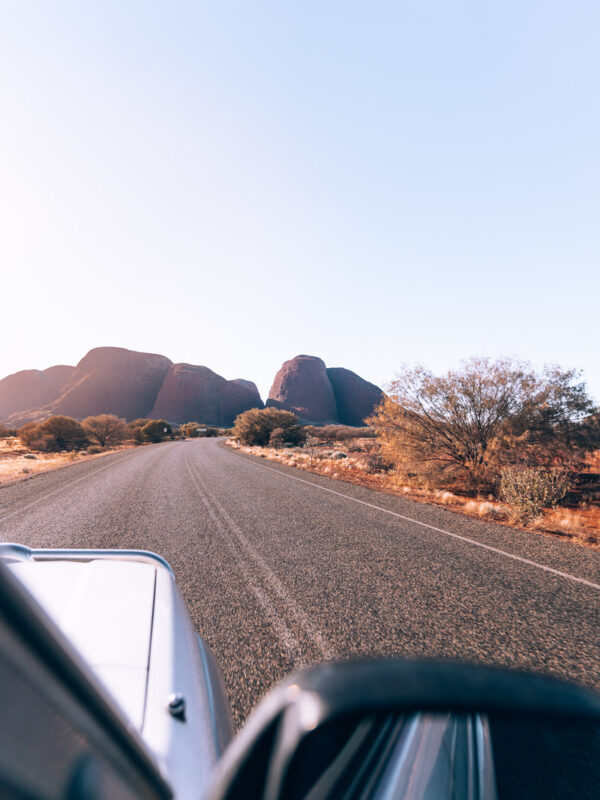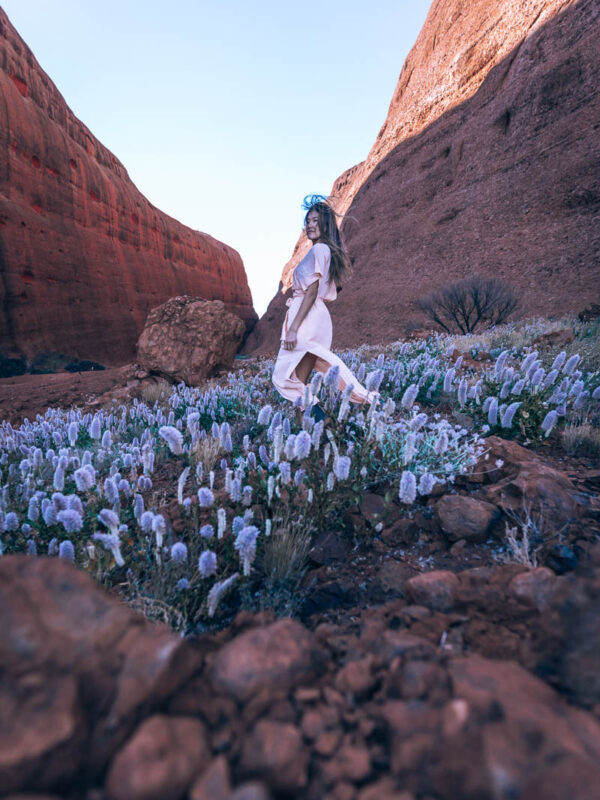 Snap Some Photos On The Road To Uluru
The drive from Yulara (Ayers Rock Resort) to Uluru is an amazing experience in itself. The road winds through the desert landscape, with beautiful Uluru and Kata Tjuta, views along the way.
It is a very scenic drive and you can easily spot Uluru or Kata Tutja from a distance, so when you see an epic view, stop somewhere along the way and snap some cool pictures.
TIP: Make sure you stop along the road where it is allowed to stop. Yellow lines will indicate that it is a no-stop zone.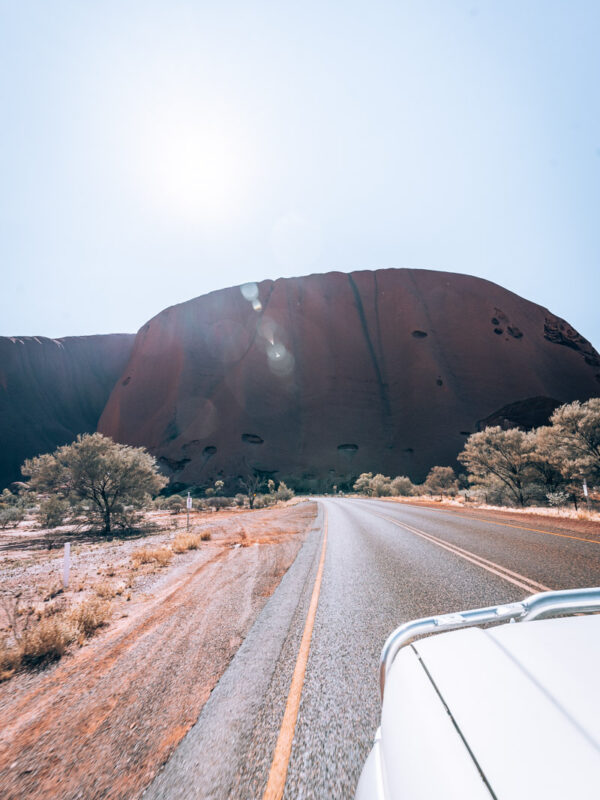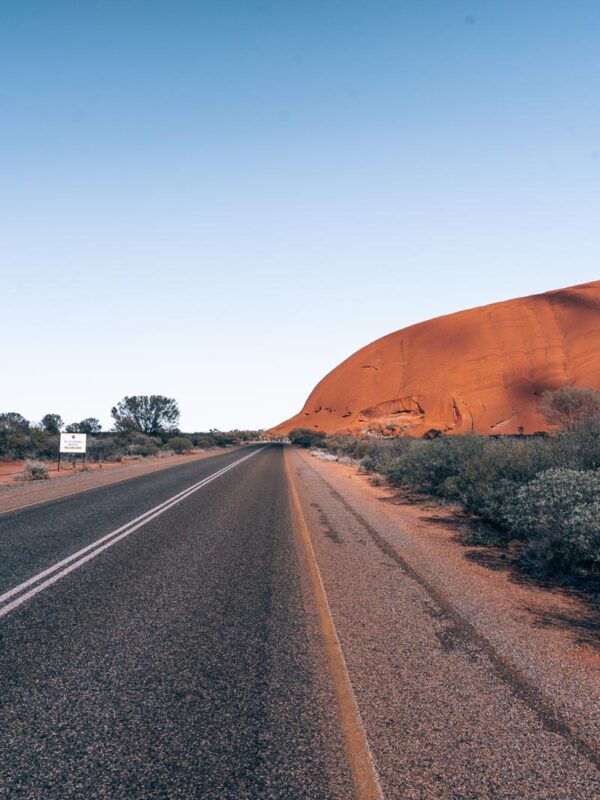 Experience A Luxury Glamping – Longitude 131
Longitude 131 is a luxury Glamping located near the park, and it offers guests an amazing experience. From the accommodation, you have direct access to some of the best experiences in the park, as well as some incredible views of Uluru and Kata Tjuta.
A range of luxury tents, each with its own unique design are available to book. So, if you're looking for a luxurious way to experience Uluru-Kata Tjuta National Park, Longitude 131 is the place to stay.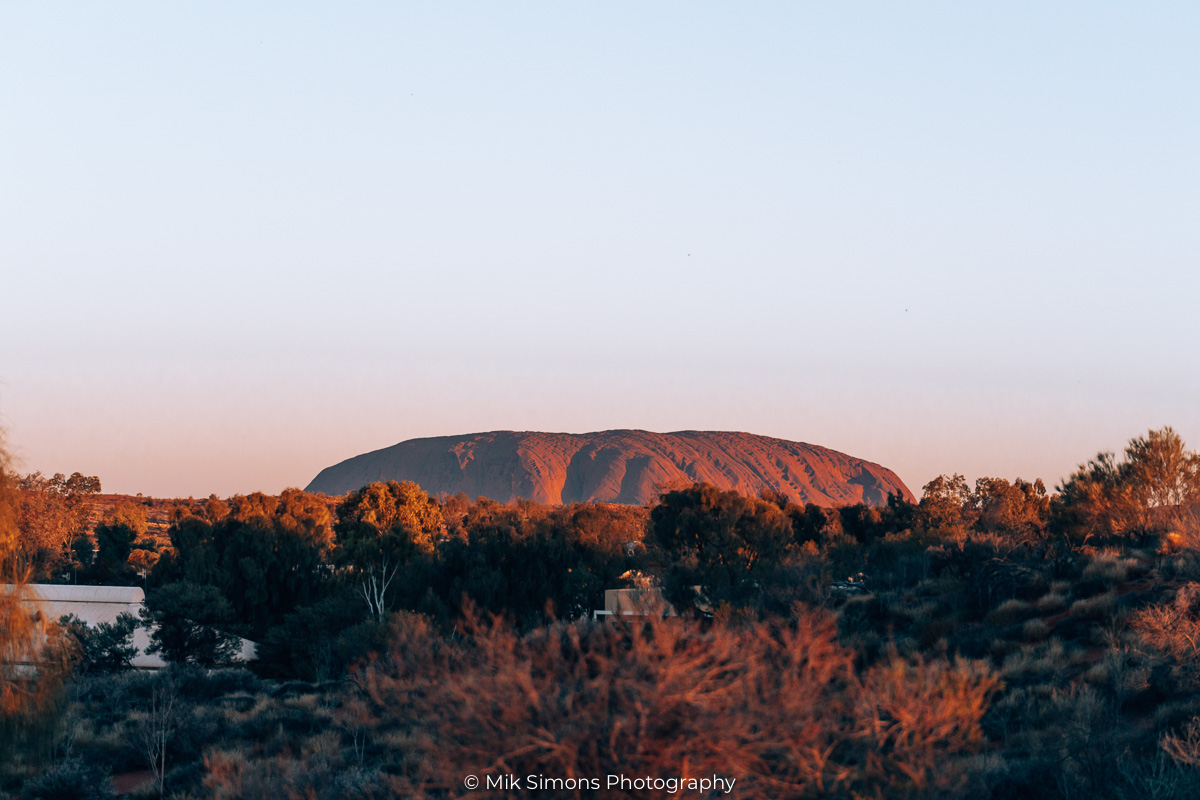 Extra tips for when you visit Uluru
There are a few things you should know before you visit Uluru:
Stay hydrated
It can be very hot in the Red Centre with temperatures up to 40 degrees. When you plan an activity, it's important to stay hydrated. Make sure you drink plenty of water before and during your visit to Uluru- Kata Tjuta National Park
Bring some warmer clothes
Uluru is in the middle of Australia and it can be very hot during the day, however, in wintertime, temperatures cool down at night to almost 0 degrees, and when you join a sunrise or sunset tour make sure you bring some warmer clothes as well.
Respect the cultural beliefs
It is important to respect the cultural beliefs of the Anangu people who live near Uluru. Therefore, you should avoid walking on or climbing Uluru and touching or taking photographs of sacred sites when visiting the park.
Take enough fuel
Fuel is very expensive in the Red Center and if the fuel price is high in Alice Springs, then expect even higher prices in Yulara. So get enough fuel in Alice Springs before heading to Uluru.
Beware of the heat
The Australian outback is known for its hot weather, and Uluru is no exception. So make sure you pack plenty of sunscreen, hats, and water when visiting the park.
There is limited cell phone coverage
There is no cell phone coverage at Uluru-Kata Tjuta National Park, so make sure you leave your phone at home. But don't worry, there are plenty of opportunities to disconnect and relax while you're here.
Take your time
Uluru-Kata Tjuta National Park is massive, and it would be impossible to see everything in one visit. Therefore, make sure you plan your trip over a few days so you can get the most out of every place.
It's a good idea to book your accommodation in advance
Accommodation at Uluru-Kata Tjuta National Park can be quite expensive or fully booked during the high season (May-September), so booking your accommodation in advance is a good idea.
There are lots of activities to choose from
There are plenty of activities to choose from at Uluru-Kata Tjuta National Park, including cycling, bush walks, sunset tours, and scenic flights. Check the weather forecast and plan your tours on weekdays to avoid big groups.
Camping at Uluru
Camping in the National Park is not allowed but you can stay at the Sandy View 24h rest area, which is about 30km from Yulara. However, there is a campground at the Ayers Rock Resort where you can stay for AU$ 40/night.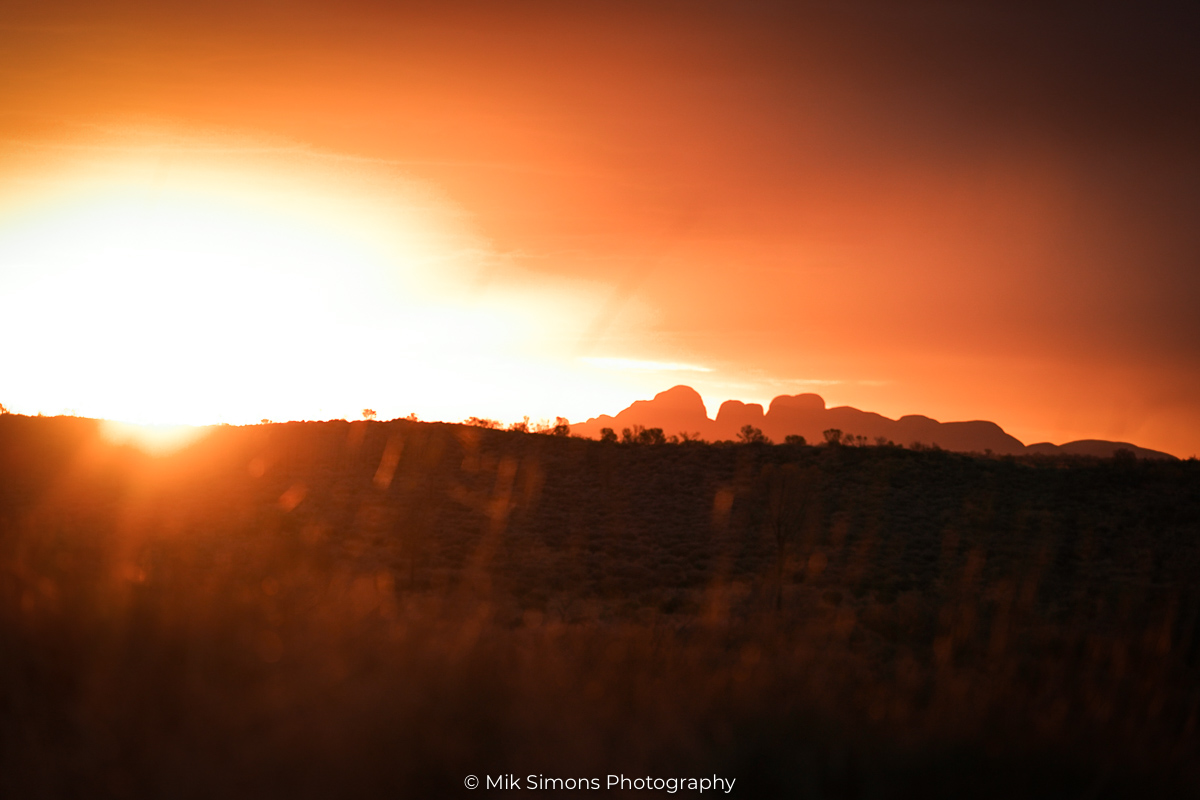 Uluru-Kata Tjuta National Park is one of the most beautiful and unique places on Earth. If you ever have the chance to visit, make sure to take advantage of all the park has to offer.
Hike around the rock formations, visit the beautiful gorges, explore some waterfalls during the season, and enjoy the epic views. There are so many things to do at Uluru-Kata Tjuta National Park, that there is definitely something for everyone.
Have you been to Uluru-Kata Tjuta National Park? What was your favorite activity?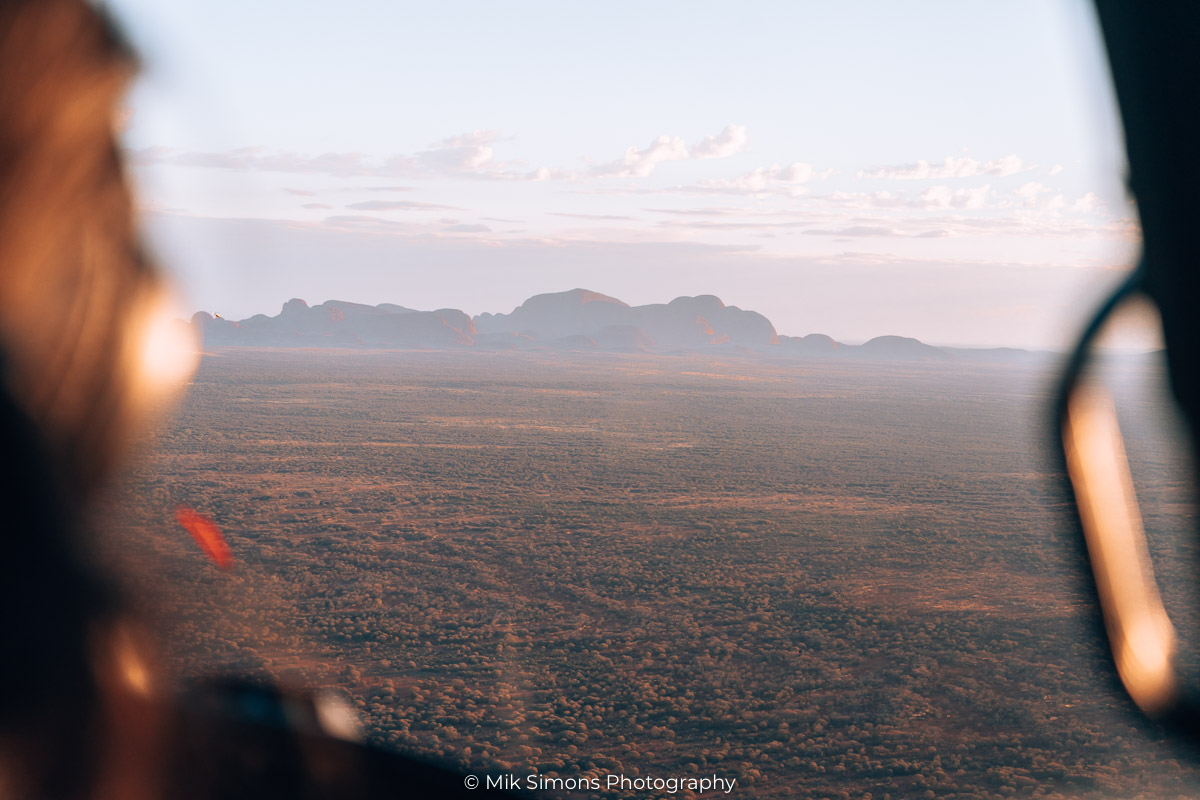 Explore the best things to do at Uluru – Kata Tjuta National Park with my favorite travel apps
To plan my adventures, I use these FREE websites and apps as they provide the best information, the best deals, and they are user-friendly. 
PICTURES AND EDITING
All the pictures on this page are made and owned by me. If you are interested in some pictures to use for your magazine, website, blog, or any other purpose, just send me an email and we'll figure it out.
Do you like the edits? My Presets will be online soon so you can edit your pictures in just one click!
The camera gear I used for this trip
I never go out without my camera and many people ask me which gear I use. So to make it quite easy, I listed all the gear I used for this trip below.
Most of the time, I travel with the Sony A7III and the Sony 24-105mm/f4 as my primary lens but depending on the location, I change to another setup. However, I love the Tamron 17-28 to shoot in the big cities.