The Luang Say Mekong River Cruise: the ultimate 2-day adventure in Laos
Disclosure
Welcome and thank you for visiting this article. Before you start reading, you need to know that some of the links on my website are affiliate links from which I receive a small commission from the sale of certain items, but the price remains the same for you.
The Luang Say Cruise offers an unforgettable journey through incredible scenery, combining luxury and comfort with adventure.
From navigating lush tropical rainforests and exploring local hill tribe villages to passing over breathtaking waters, this Mekong River cruise is the perfect addition to your Laos itinerary.
You'll find yourself immersed in the awe-inspiring beauty and enjoying incredible sunsets on the deck while dining on delicious local dishes or some freshly caught river fish during this two-day journey.
The 2-day bucket list experience is one of the best things to do in Laos and it was the perfect way to end my trip through this amazing country.
In this article, I'll share my personal experience, useful tips, and inspiring photos of the journey.
READ ALSO: Backpacking in Laos: the best 2 weeks in Laos itinerary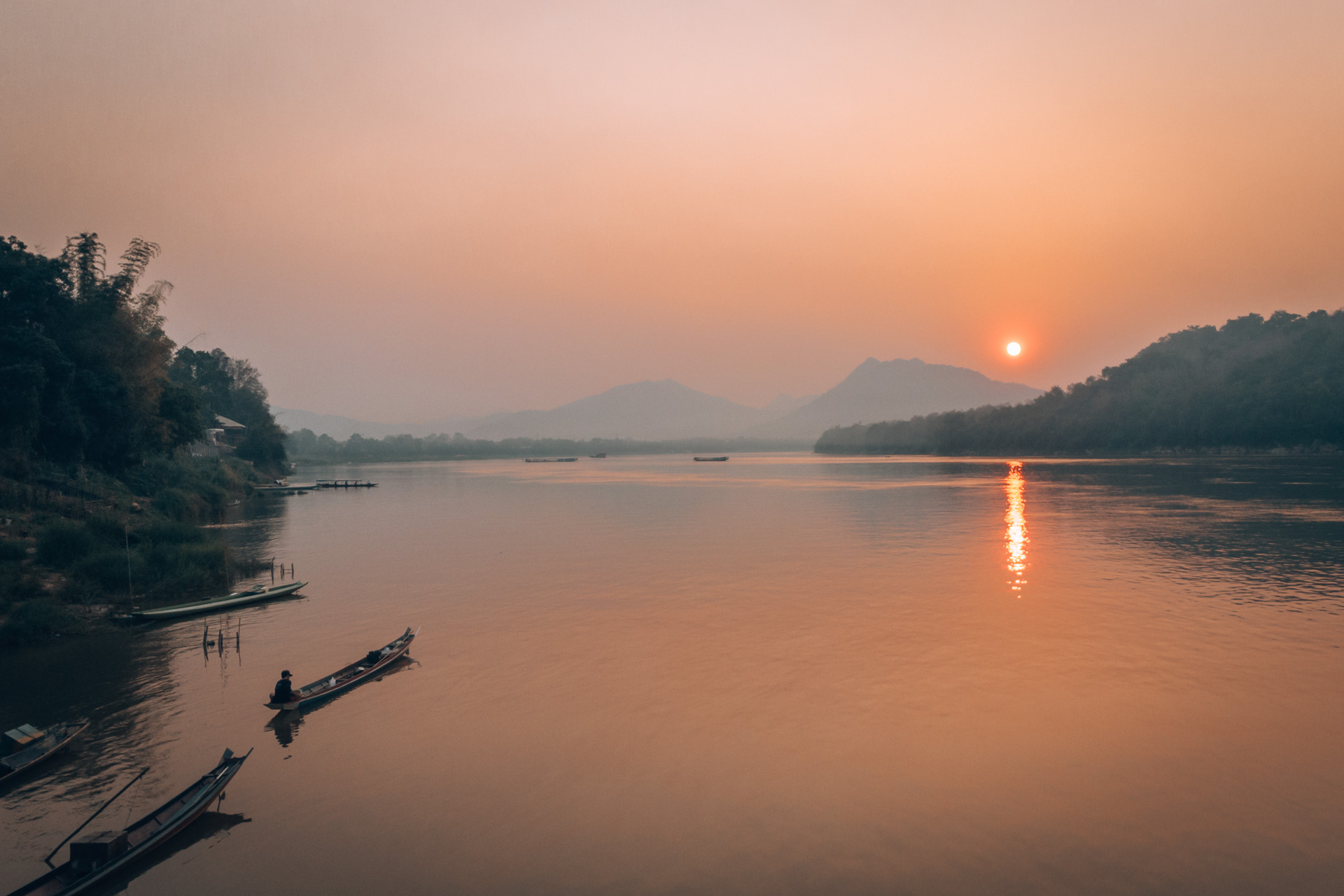 Where to start the Luang Say Cruise?
If you're looking for an adventure in Laos, the Luang Say offers two options: traveling from Huay Xai to Luang Prabang, or from Luang Prabang upstream to Huay Xai.
Since I was already in Luang Prabang, I decided to take the upstream route and spend the last days of these amazing 2 weeks in Laos on board of the Luang Say. It was an unforgettable journey, full of breathtaking views and unique experiences.
Huay Xai is the best way to start if you want to explore more from Laos after a visit to Thailand. You can board the this luxury Mekong River Cruise and embark on an exciting journey downstream.
From Luang Prabang is arguably one of the best places to start this journey. You will spend two days cruising along the stunning limestone cliffs while taking a peek at traditional Lao villages, sacred temples, and unforgettable sunrises and sunsets while probably ending your trip in Laos and heading into Thailand.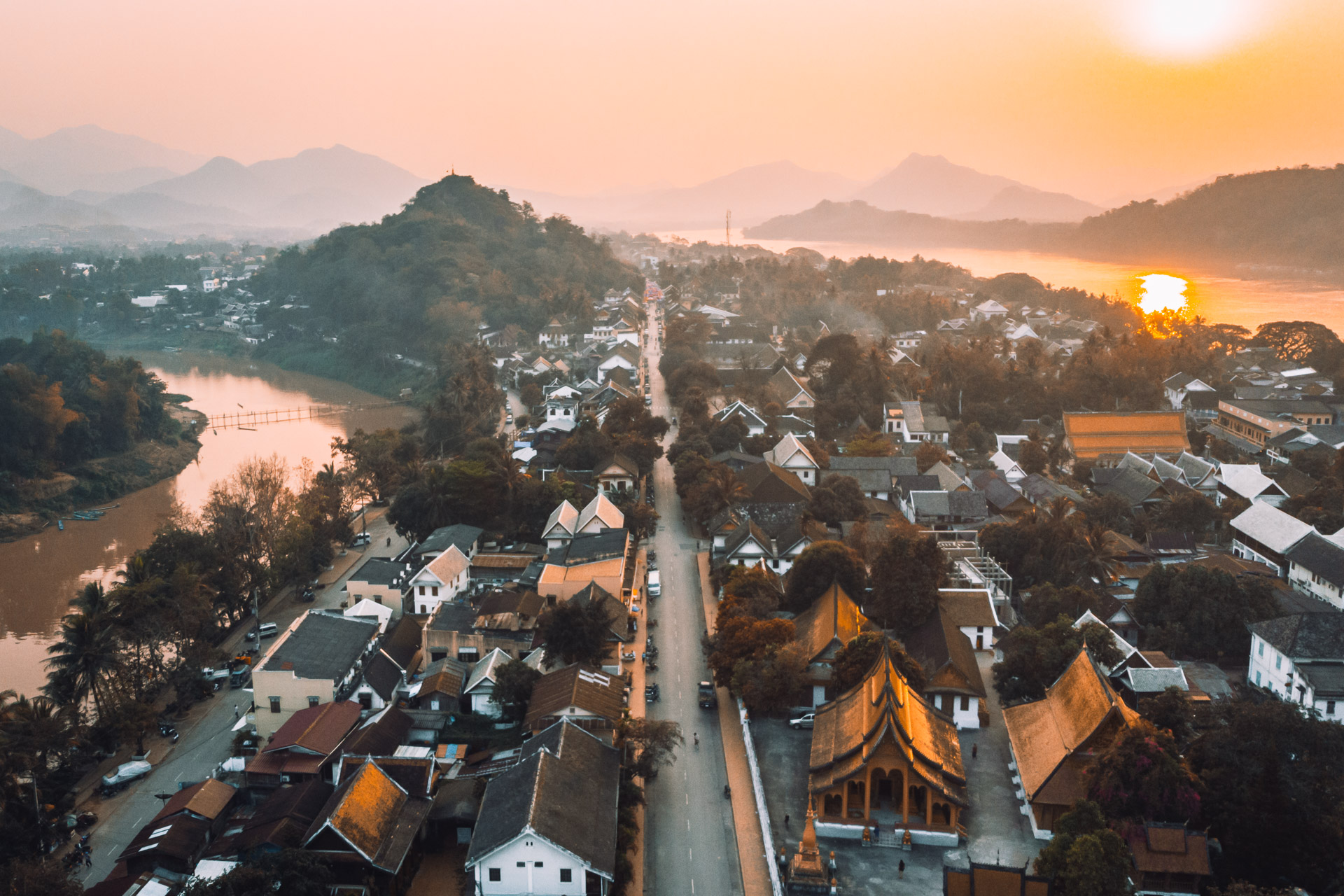 How long does the journey takes?
This luxury trip takes two days to go from Luang Prabang to Huay Xai with time to explore the riverbanks of the Mekong River in Laos. You can expect your journey will start around 8am with a stopover at Pakbeng, a vibrant town full of local crafts and hand-woven goods.
In Pakbeng, you'll spend the night and enjoy exquisite riverbank scenery during sunset. The next morning, you'll continue along the river and reaching Huay Xai in the evening where your memorable adventure ends.
It won't be an "ordinary" cruise – it will be an extraordinary experience that you remember forever!
However, if you want to have a truly amazing experience, the Luang Say Cruises offer also many other options for 3 days, 4 days and even 7 days.
TIP: Check the website for more information about the duration and itineraries of each tour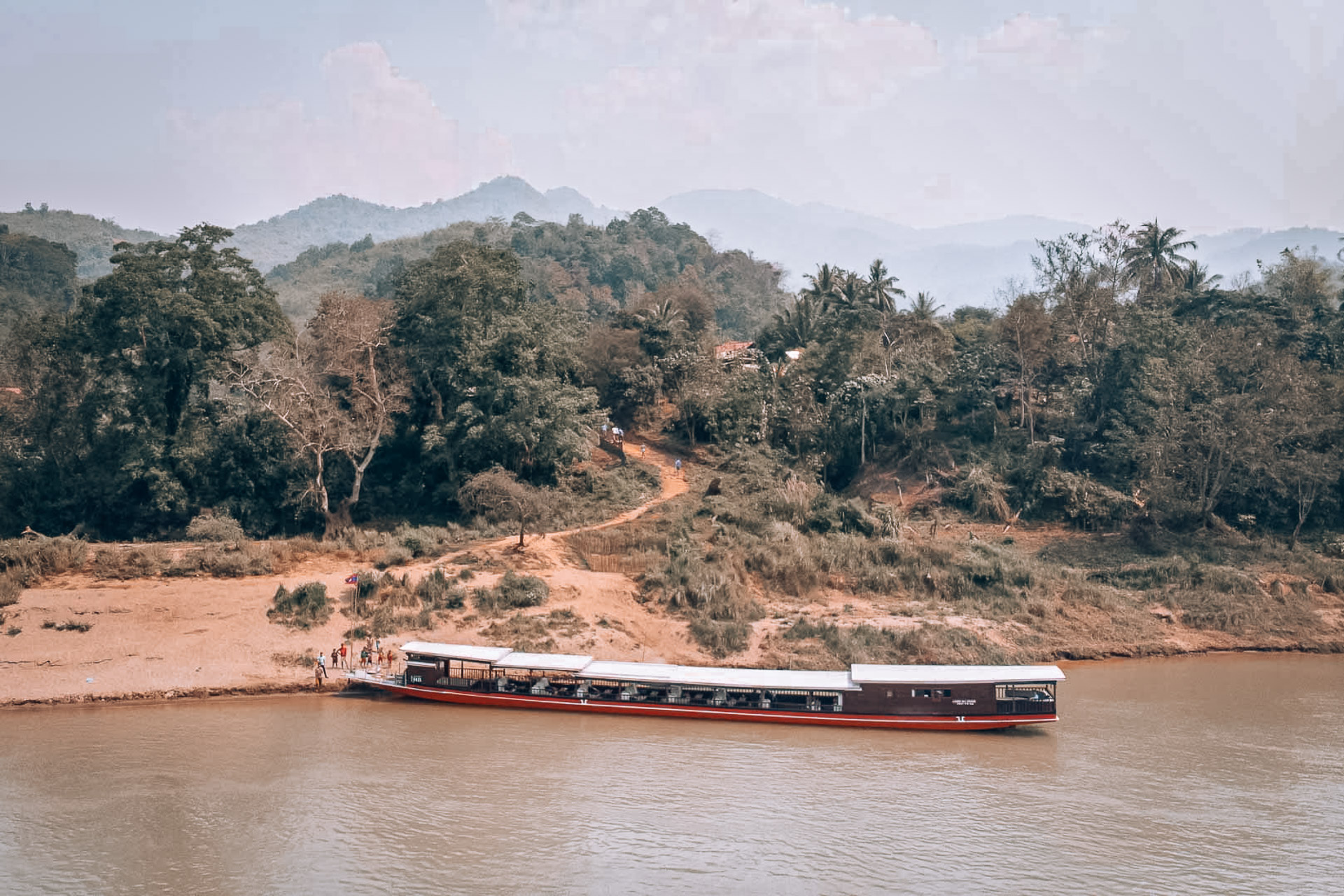 The best time to join a Mekong River Cruise
The best time to do a two-day Luang Say Cruise is from November to May. During this time, the monsoon season has passed and the temperatures are pleasant, making it ideal for outdoor activities.
With plenty of stops along the way to check out historical sites, nature walks and cultural villages, this exhilarating journey offers a unique insight into Lao lifestyle while taking in stunning views of rural Laos.
Start your adventure with an early morning sail upstream, through breathtaking gorges before stopping at the Pak Ou Cave and Pakbeng.
Witnessing locals weaving Pandan matts or fishing with traditional nets and ending with an stunning sunset towards Huayxai will make your two-day adventure in Laos truly unforgettable!
NOTE: There are no cruises operating in June due to the weather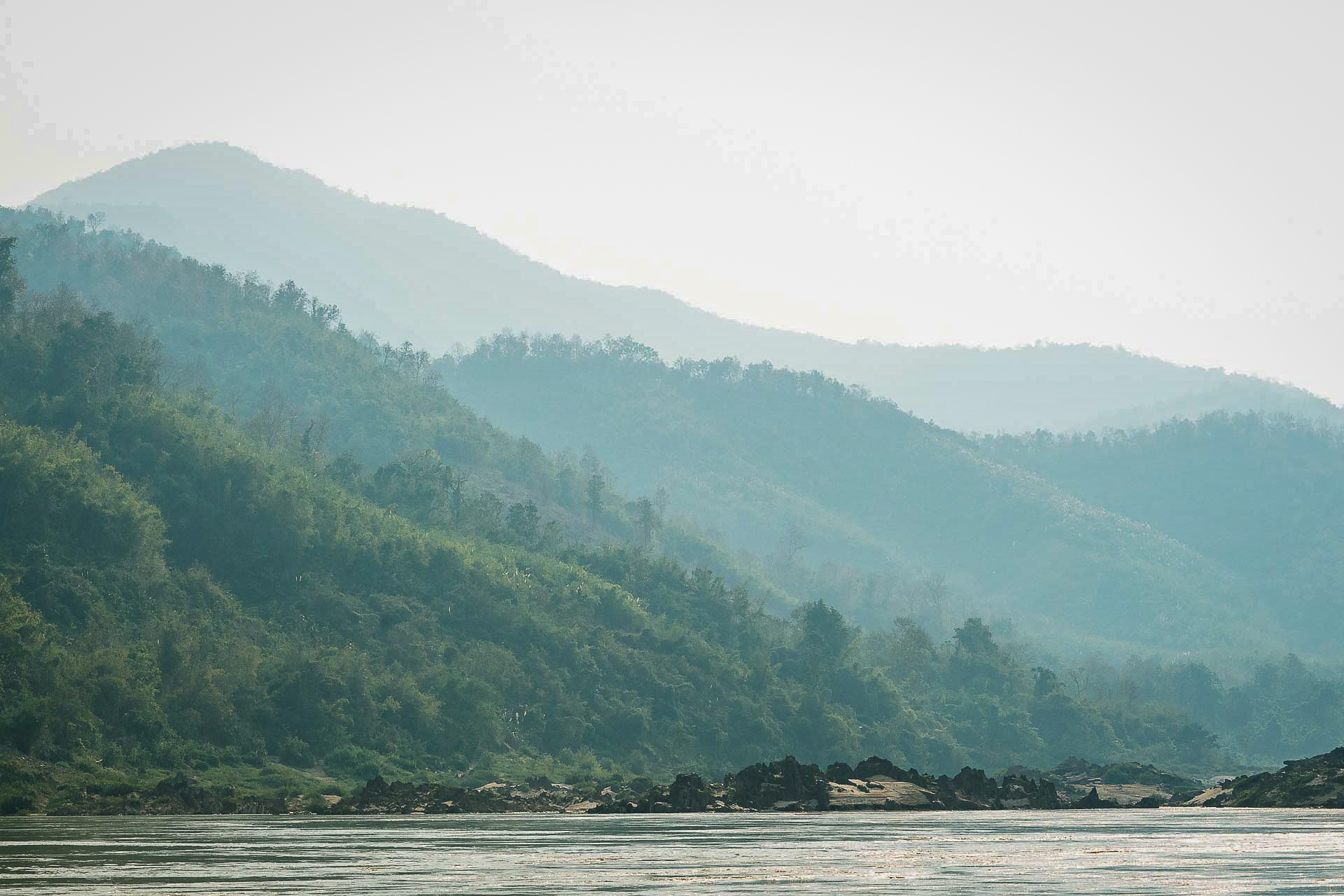 Essential tips
A Luang Say Cruise is a great way to explore some of the most beautiful places in Laos. To make sure you get the most out of your experience, here are a few essential tips:
From October to February, temperatures on the river can be cool in the morning, so it's wise to bring a jacket or sweater.
Take a great book with you
Bring a small daypack, so you can leave your main luggage on the boat when you visit the villages or stay overnight in Pakbeng.
When you arrive in Huay Xai, you'll need to pay for the bus to Chiang Kong yourself (10,000 Kip per person).
Please note that alcoholic drinks, visa costs, and tips are not included.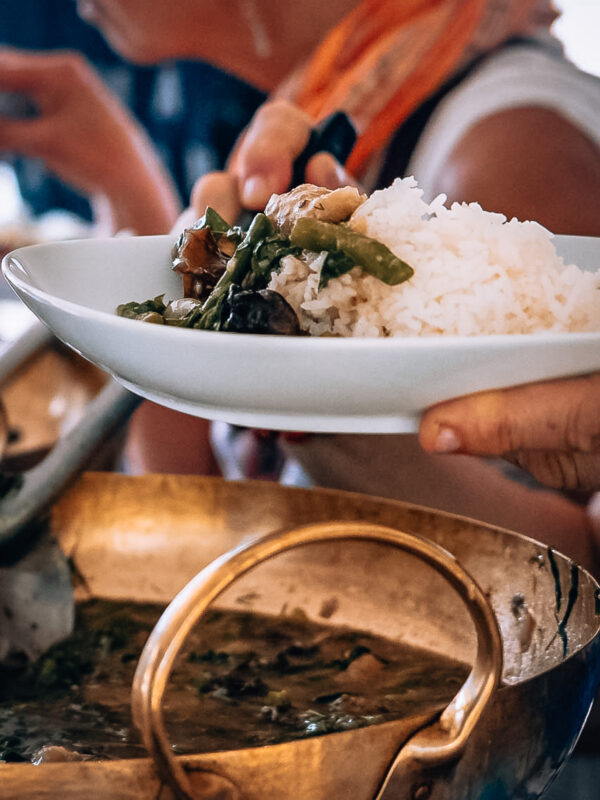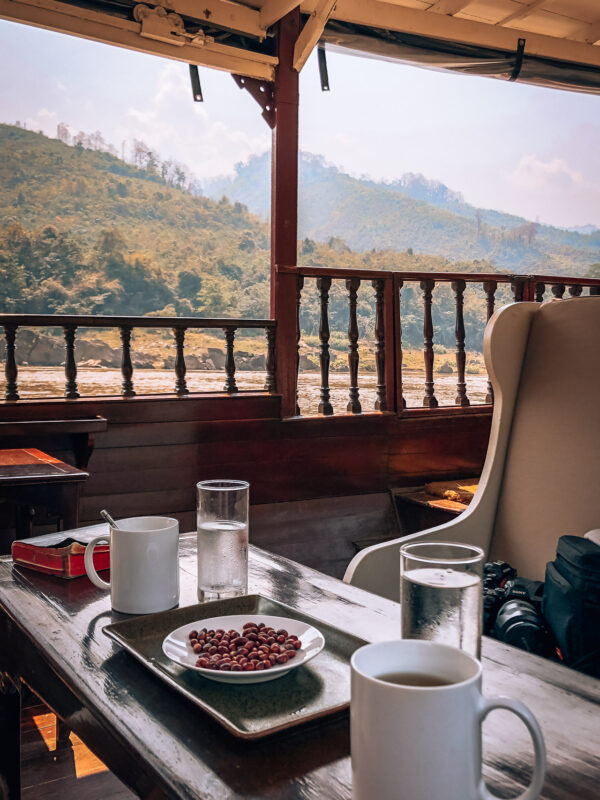 How much does the Luang Say Cruise cost?
The 2-day Luang Say Mekong River Cruise is one of the most exciting and enjoyable ways to explore the beauty of Laos and it's incredible nature!
From the breathtaking sunrises to the fresh afternoon breeze, you will be sure to adore every minute. On board, guests may enjoy luxurious lounge chairs, gourmet dining experiences and attentive staff. While the luxury boutique accommodation, The Luang Say Lodge is in Pakbeng.
Prices and rates vary by date, length of the cruise and season, however, for this 2-day experience you can expect to pay US$430 per person including the following:
2 days / 1 night aboard of the Luang Say Cruise
Breakfast, Lunch, Dinner included during the journey
1 night in The Luang Say Lodge in Pakbeng
Qualified crew and guide
Visit to the Tam Thing Cave
Visit to the village of Baw
Visit to the village of Ban Gon Dturn
Entrance fees
Coffee, tea and water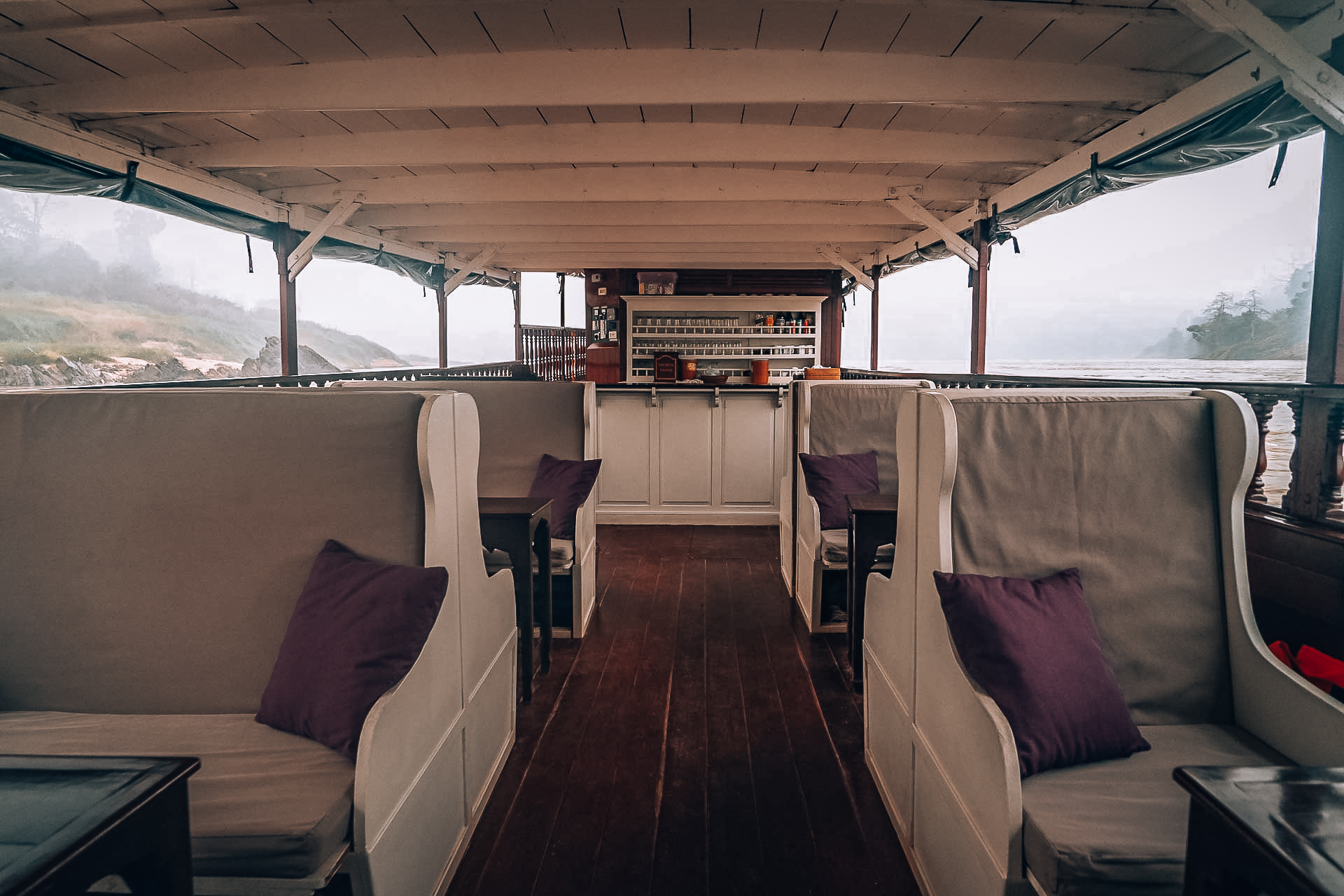 Where to stay?
It is best to spend a few days in Luang Prabang before boarding the Luang Say Cruise to explore all of the interesting places there.
However, when this journey comes to an end, you will probably need a place to stay in Huay Xai as you will arrive there in the evening. Huay Xai isn't particularly remarkable, but Chiang Khong, the town across the Thai border, has a few nice places to stay.
You can also choose to go directly to Chiang Rai after the experience, just like I did.
Below I listed some recommended places to stay before or after the trip.
READ ALSO: 12 x best hotels in Laos
The Luang Say Cruise experience
Day 1: From Luang Prabang to Pakbeng
On the first day of my incredible journey in Laos, we were picked up from the hotel in Luang Prabang and taken to the pier, where we boarded the Luang Say Cruise at 7am. As the boat set off, we were treated to a small breakfast while admiring the misty Mekong River.
After a few hours, the boat arrived at the Tam Thing Cave opposite the river of the Pak Ou Village, where thousands of Buddha images are housed. It was a truly awe-inspiring sight to witness the locals bringing offerings to their gods and praying.
After exploring the caves, we returned down the stairs of the cave to find a delicious buffet lunch waiting for us on the Luang Say Cruise.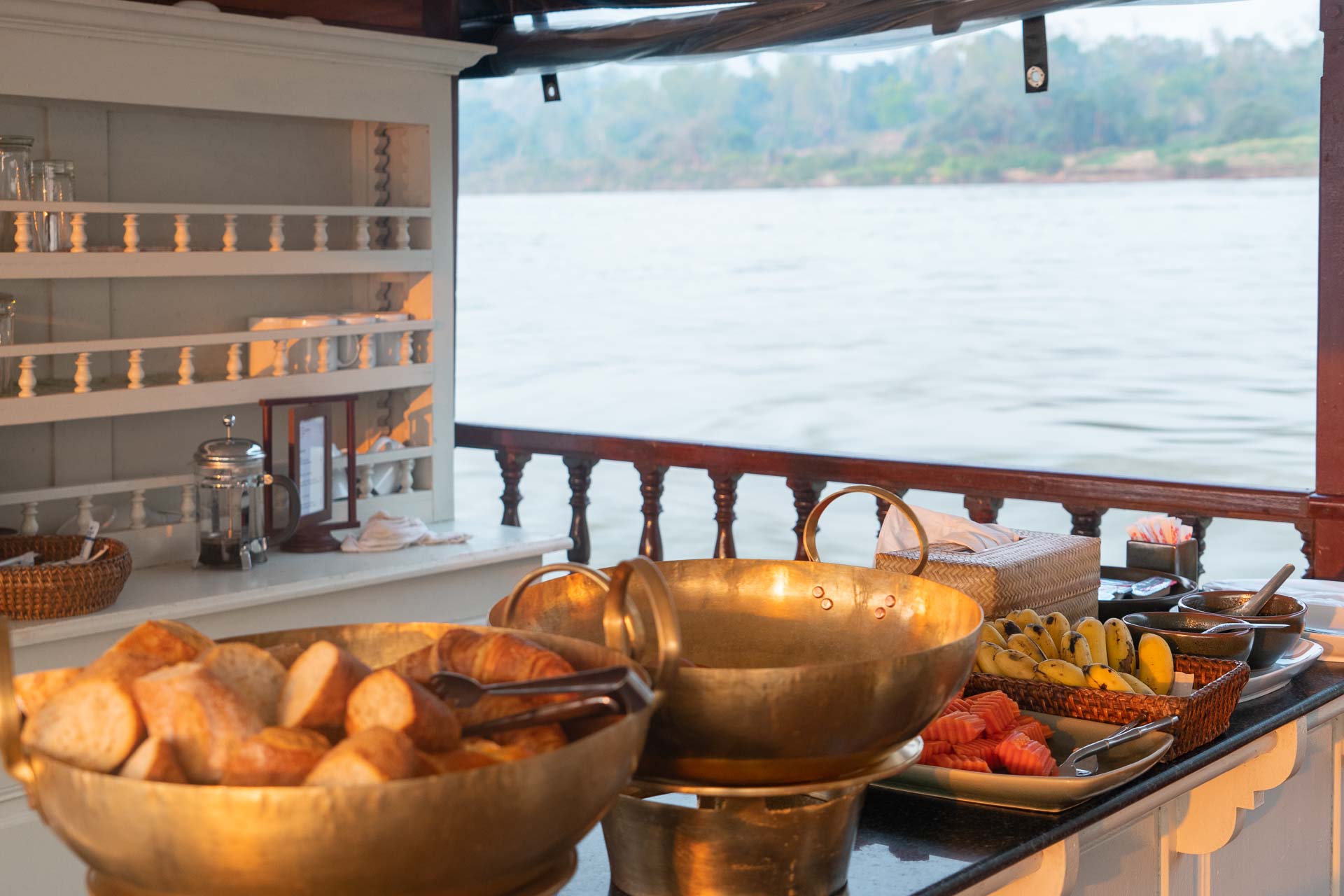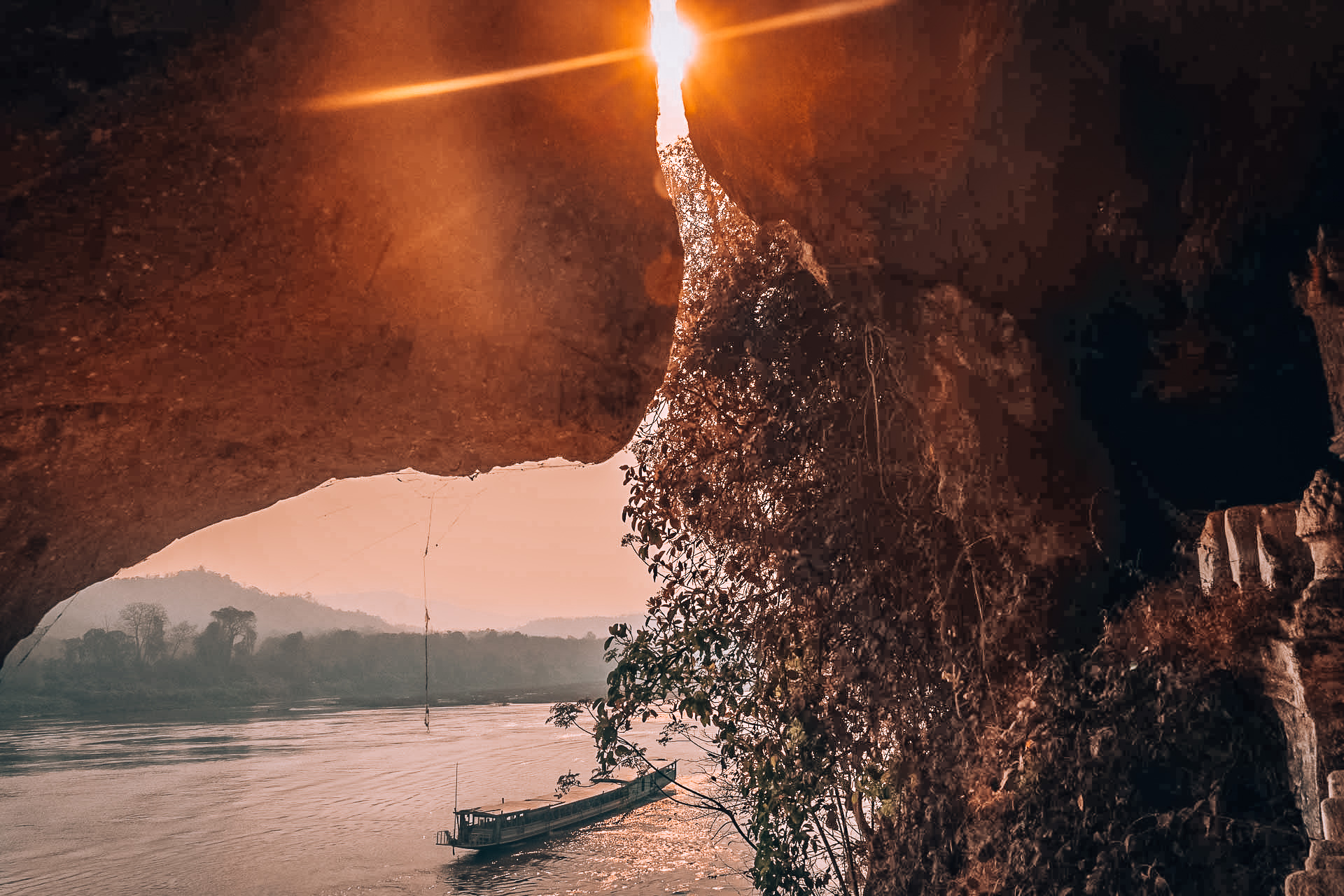 After visiting the Tam Thing Cave, our journey continued northward towards the Thai border. As we traveled, we were treated to a stunning view of local villages and children playing along the banks of the Mekong River. It was truly heartwarming to witness the joy of these children.
At one point, we stopped at the village of Bam and had the opportunity to meet the locals and explore their handicrafts. We were amazed by the intricately woven shawls and sarongs, as well as the handmade figurines. The children also came to greet us, adding to the warmth of the experience.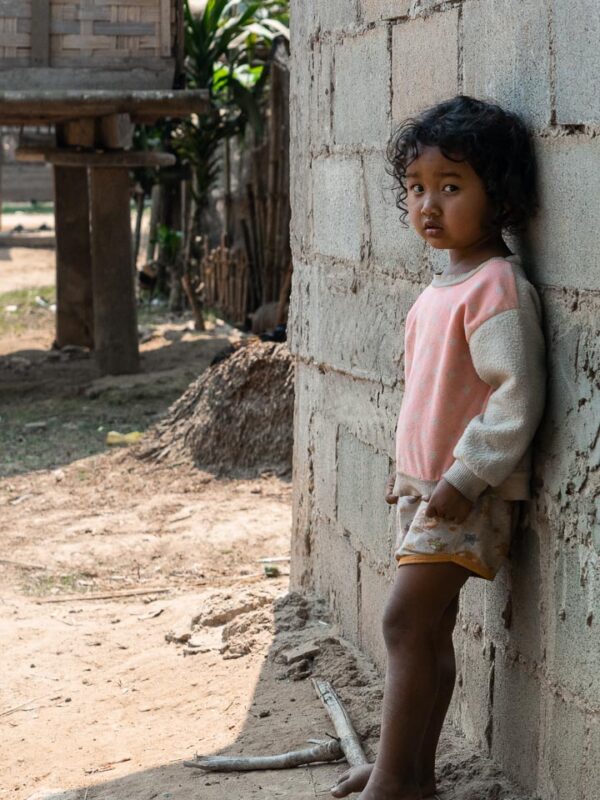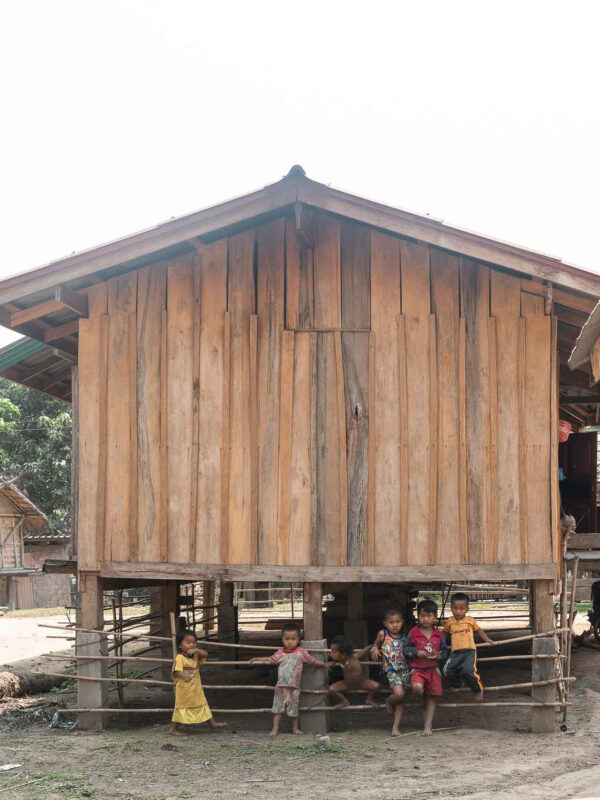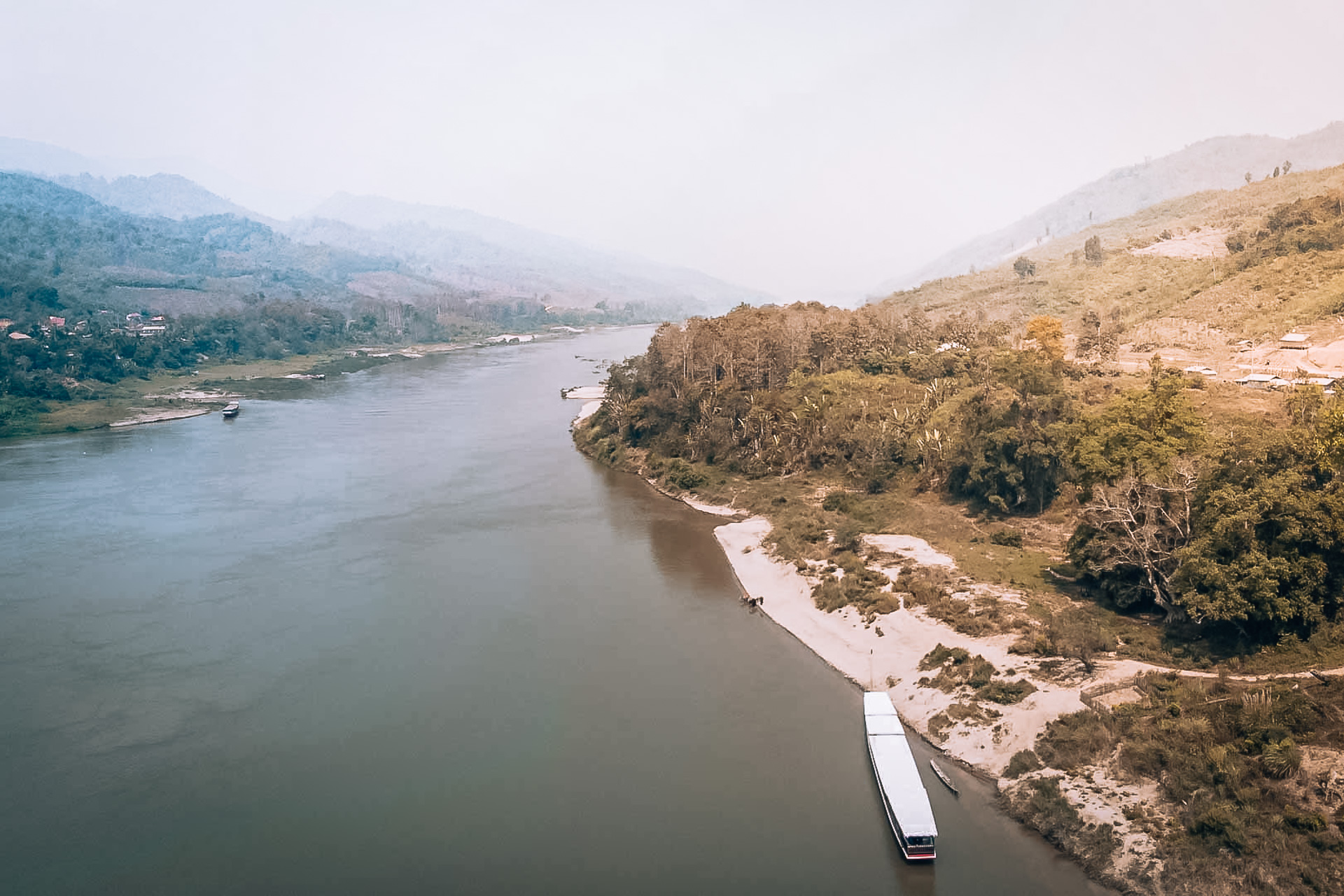 Just before the sun set, we arrived in Pakbeng and stayed at the luxurious Luang Say Lodge. As the Luang Say boat itself had no sleeping quarters, the lodge provided us with a beautiful bungalow with a stunning view of the Mekong River and the surrounding landscape.
Upon arrival, a delicious dinner was waiting for us and the night was concluded with a traditional dance performance by the children and elderly of the village. It was a truly magical experience that we will never forget!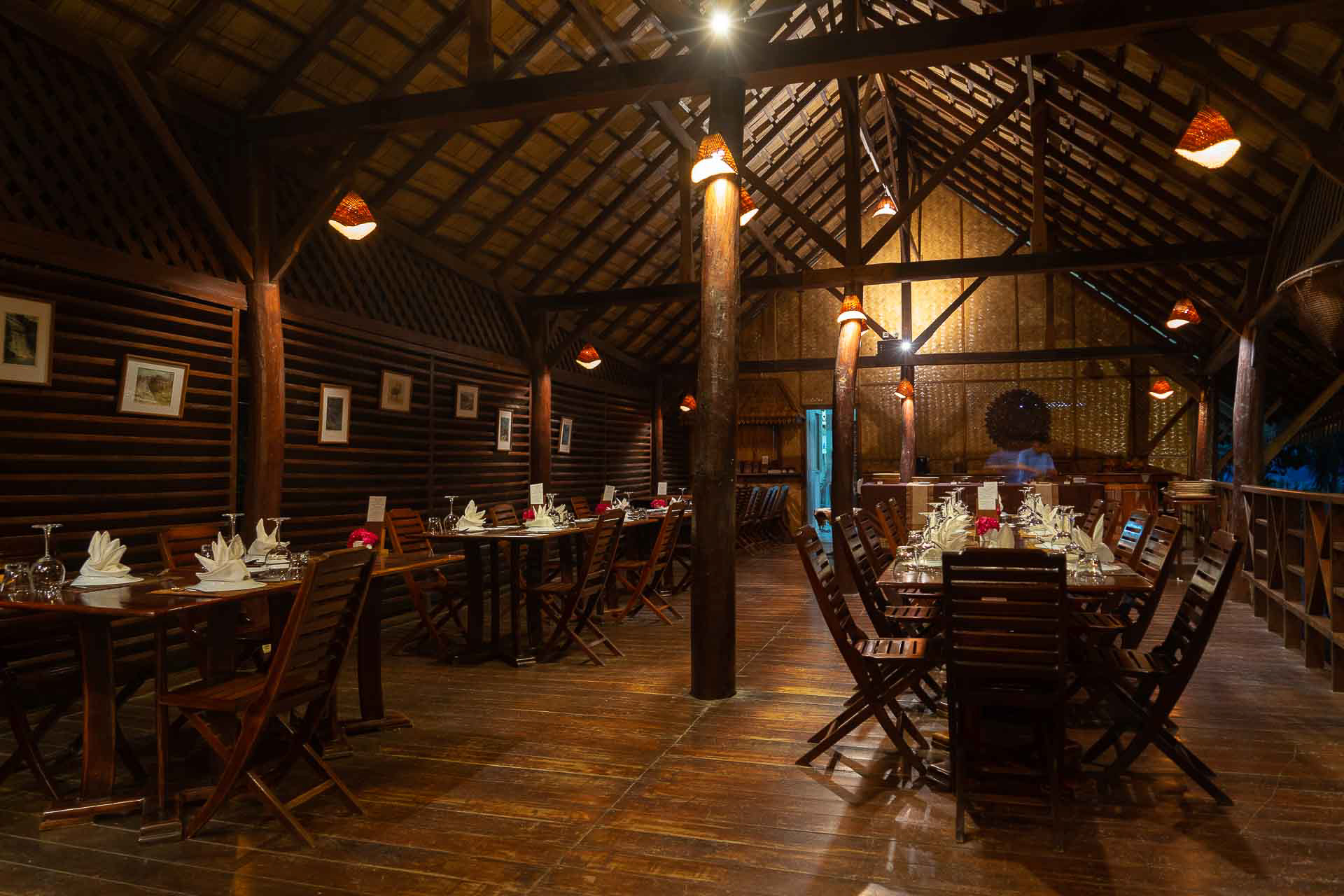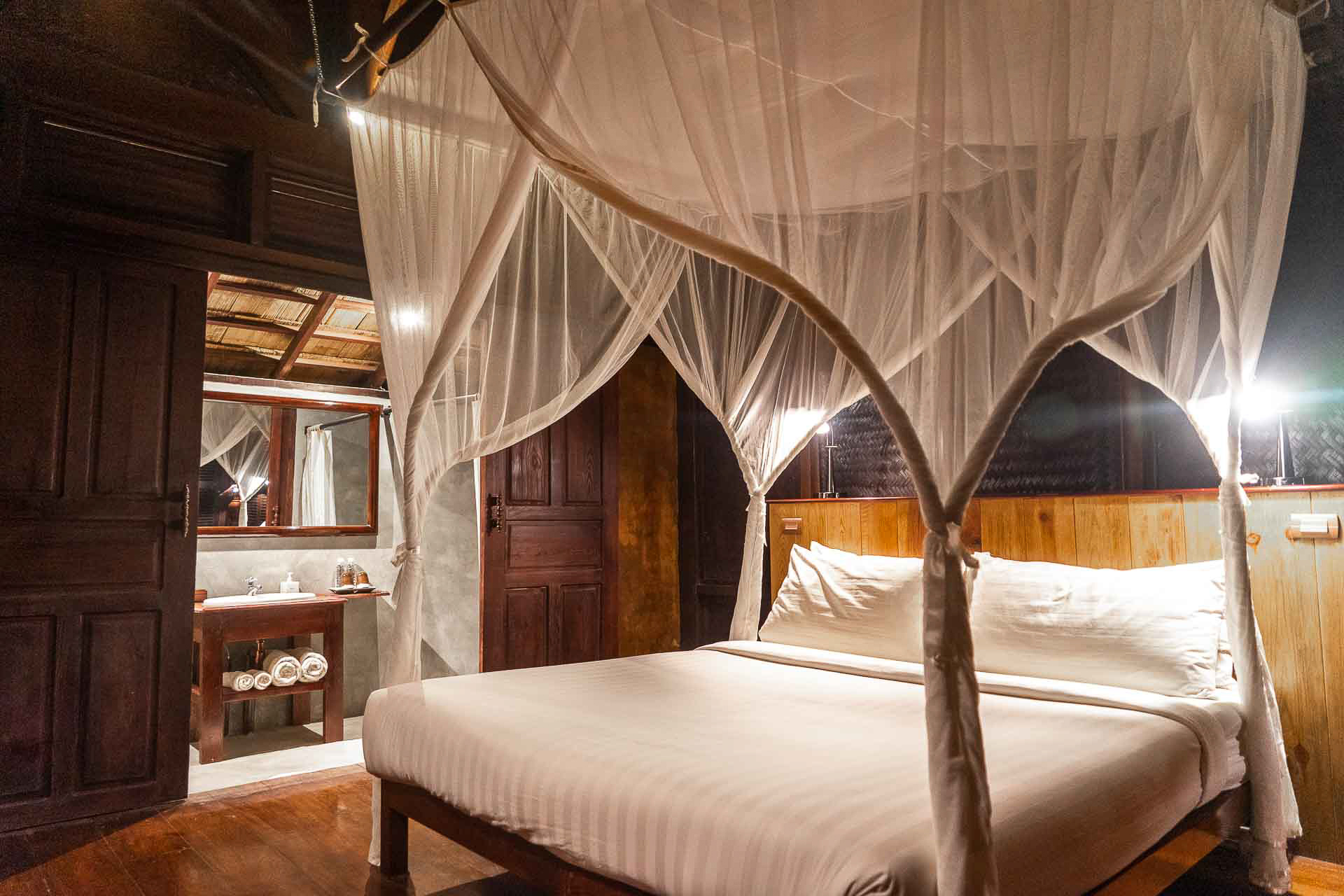 Day 2: Pakbeng to Huay Xai
The second and final day of this incredible journey began with a stunning sunrise and a traditional Laotian breakfast, after which we continued our voyage down the Mekong River.
The sights were breathtaking, with locals fishing, swimming, children playing, and women selling handmade sarongs along the river banks. Just before lunch, we stopped at the nearby village of Ban Gon Dturn to observe the artisans crafting hand-woven baskets and souvenirs as well as the agriculture process of the village.
The children were delighted to see us and welcomed us with a game of hide-and-seek. After the visit, lunch was served on board the Luang Say and we set off for the last leg of our journey.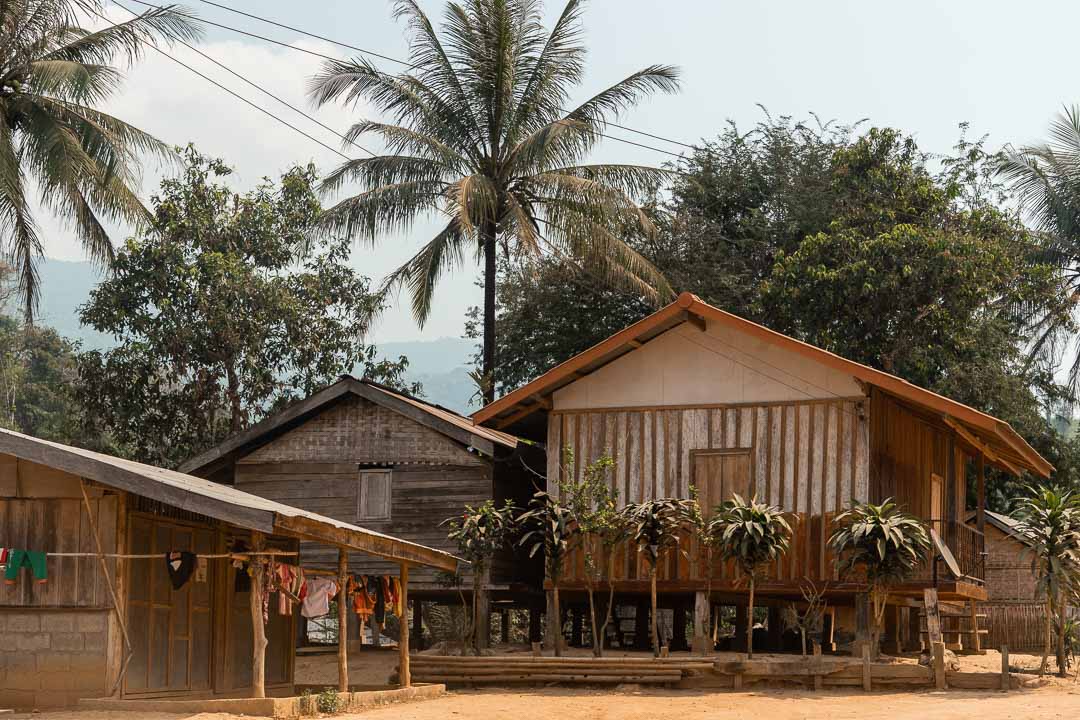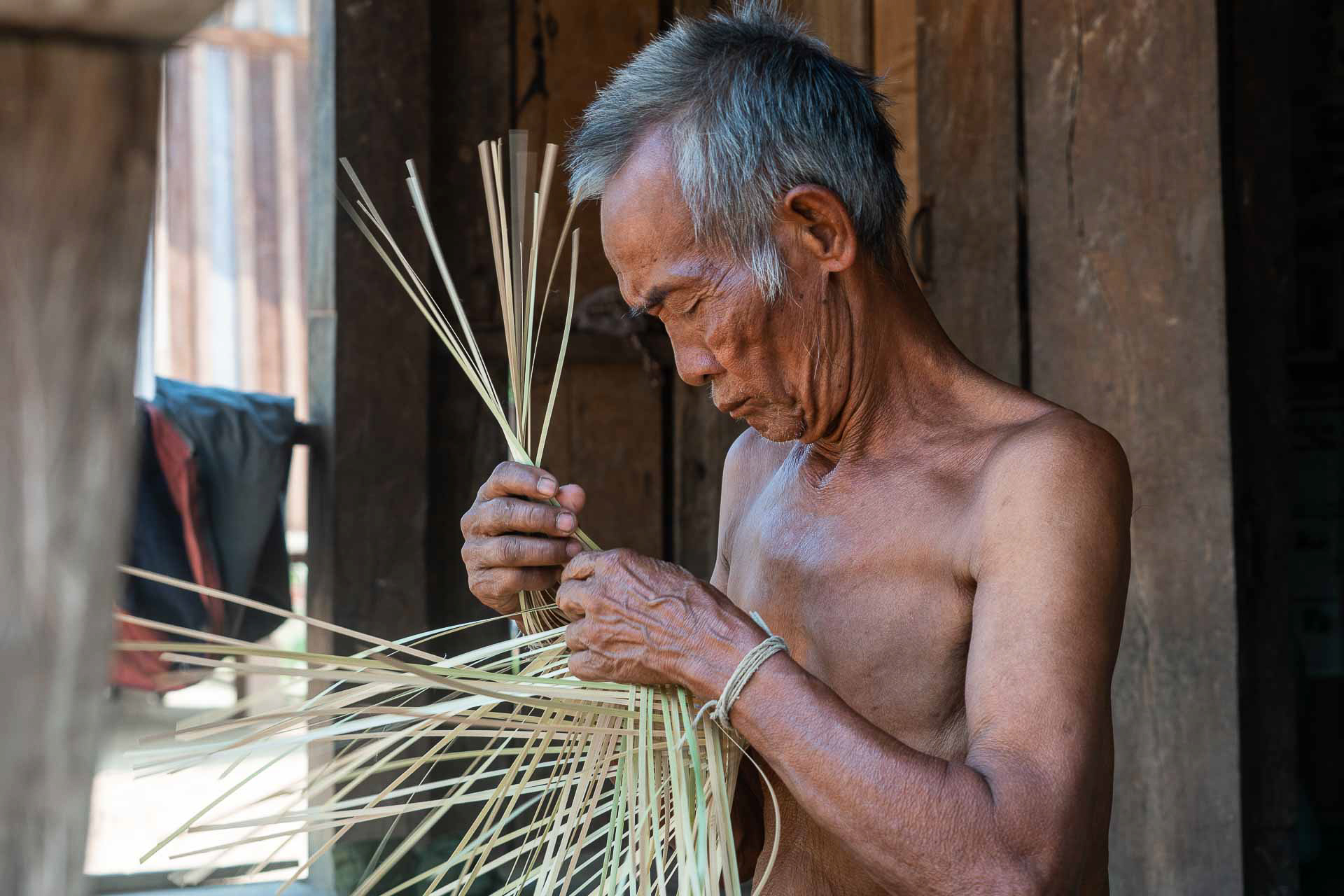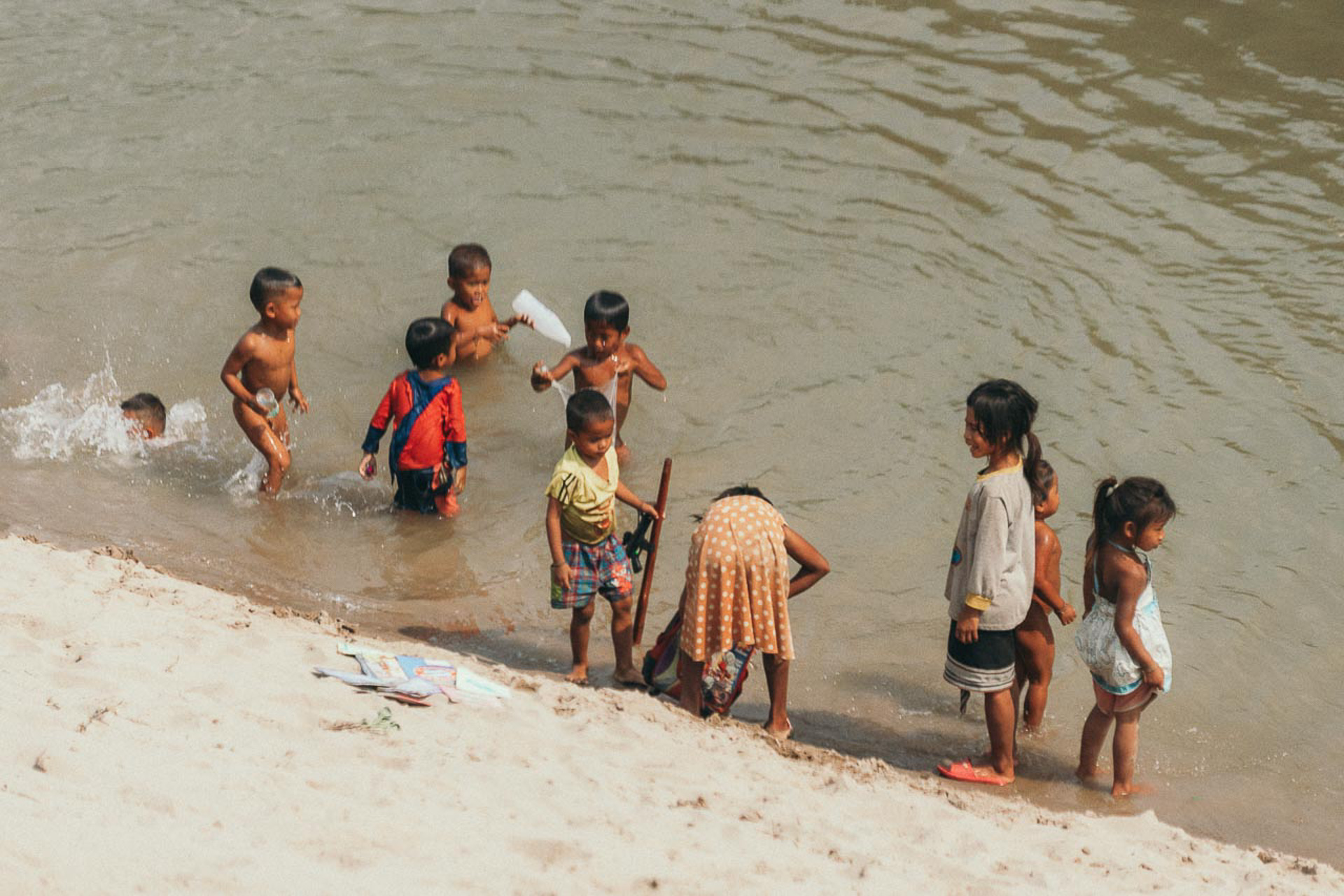 We arrived in Huay Xai around 5 pm, but instead of staying in this quaint village to explore more of Laos, we decided to travel directly to Chiang Rai in Thailand.
Upon arrival, we had to cross the bridge (Laos/Thai border) ourselves and were welcomed into Chiang Khong with an entry stamp in our passports. From there, we jumped into a minibus to Chiang Rai, concluding our remarkable adventure in Laos.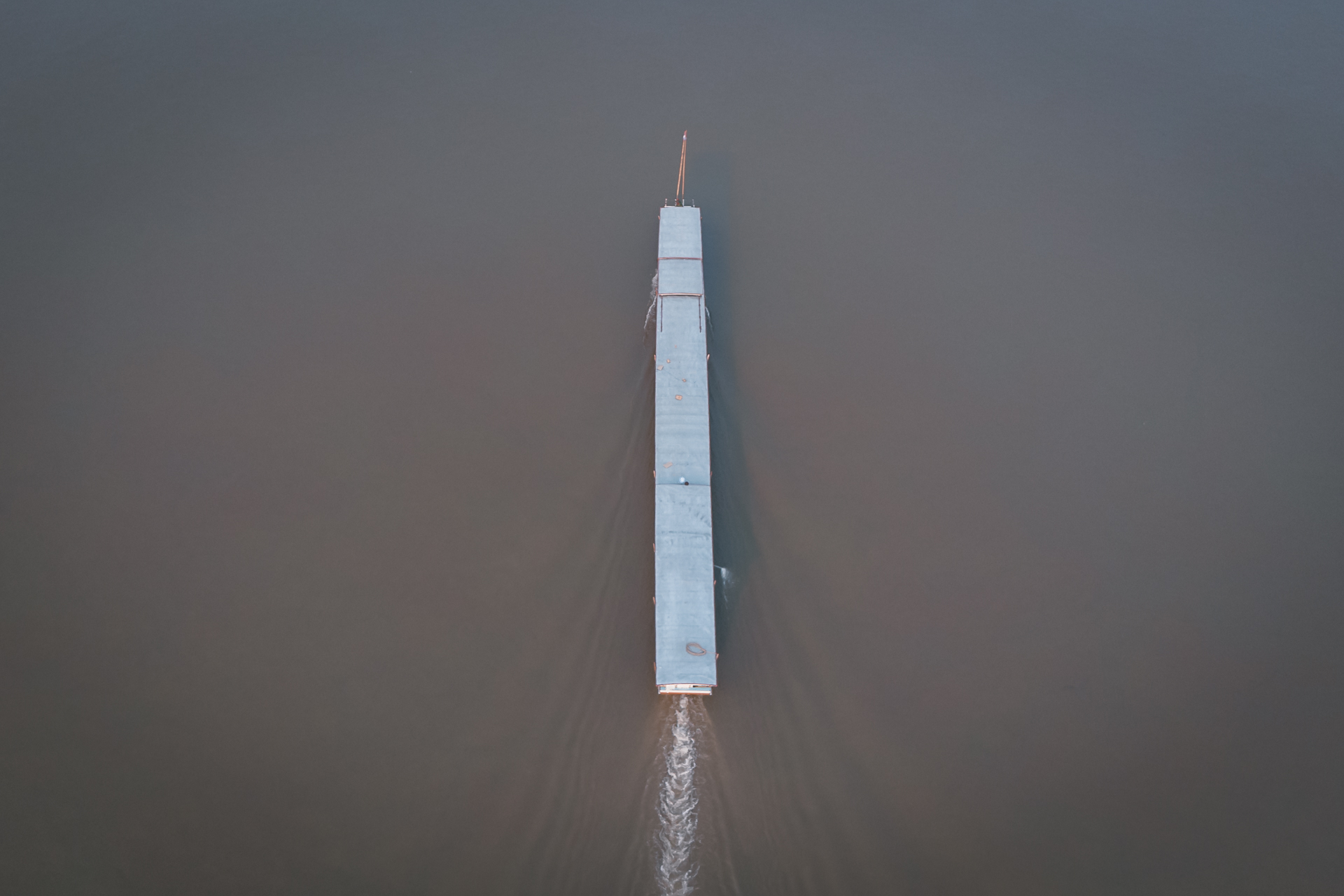 When you're looking for a bucket list experience, the 2-day Luang Say Cruise is a great choice! From serene views of limestone cliffs and lush greenery to breathtaking sunsets, it's an unforgettable and relaxing adventure.
I couldn't wish for a better way to leave the Laos and arrive at a new destination during my world trip.
Don't miss this unique experience on your itinerary for Laos and if you have any questions or would like to share tips, let us know in the comments.